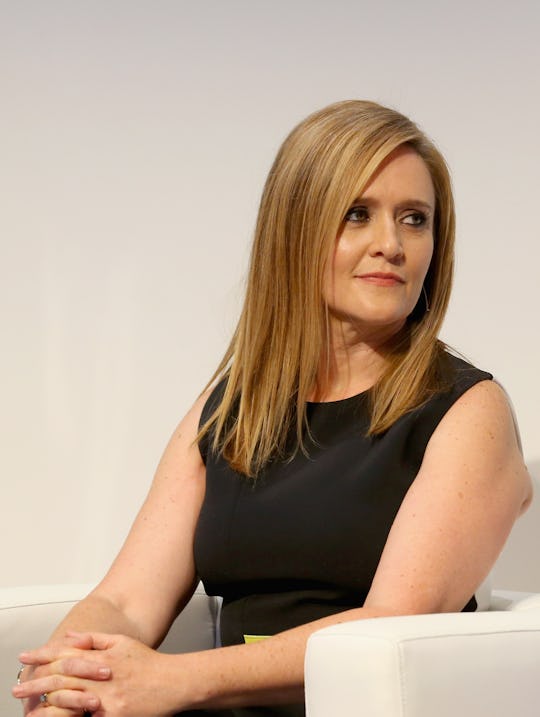 Paul Zimmerman/Getty Images Entertainment/Getty Images
Samantha Bee Says The GOP Brought 2016 On Itself & She's Not Totally Wrong
Politics is always good fodder for comedy and Samantha Bee's takedown of the GOP on her show, Full Frontal, this week — in which she argued that Republicans brought the 2016 election mess on themselves — is just as chuckle-worthy as it is a serious message. In one segment of Monday's episode, Bee analyzed the final presidential debate between Donald Trump and Hillary Clinton. If you can remember that far back, there were high and low points of the final debate last week, for both candidates, regarding many important issues. But the real issue, for Bee, was the GOP's response to Trump's performance.
Sticking to her The Daily Show roots, Bee dissected the response to the debate with video clips of Republican politicians and cable news pundits who were aghast, just totally floored, that Trump said he might not be into accepting the results of the election because he believes the electoral system and the media are rigged against him. During the debate, Clinton spoke for many Americans when she said that Trump's refusal to accept a civil transition of power was "horrifying." Bee, instead, caught everyone else pretending that this was something new.
Using clips of Arizona Sen. John McCain during his 2008 campaign against President Obama, Bee pointed out the exact moments when, he, along with other various Republican party members, had questioned the validity of the American electoral system. McCain cried "voter fraud" repeatedly on the campaign trail, as Bee points out with her edited video clips, during the 2008 election. "Spare us the hand-wringing, GOP. If you leave loaded guns lying around the house it's only a matter of time before a 4-year-old picks one up and pulls the trigger," she said in her monologue.
Ouch. As always, Bee is so on point it hurts. Her joke works on so many levels (because really, if you leave a loaded gun around the house, a 4-year old will likely injure themselves) that it was probably pretty painful for loyal Republicans who are a little nervous about a Trump presidency to process. Because it's only now, weeks before the 2016 election, that Republicans are starting to clutch their pearls over Trump's audacity to question the basics of the democratic process.
Many Republicans are rightfully worried about Trump. He's hard to keep on script and his promise to keep the American public "in suspense" about whether or not he'll try to contest election results (only if he loses, of course) is troubling. A peaceful transition of power is something America prides itself on — even if it means voters end up with more of the same sometimes — and threatening to contest an election is a big deal.
Trump called Republicans' bluff, in a way. Usually, the party uses media bias and claims of voter fraud (all unfounded, by the way) to rile up its base before Election Day and drive voter turnout. Now that the party has nominated a candidate who might do anything to stay in the limelight and won't listen to, or actually feuds with, its leaders, it has good reason to be a little worried. The GOP should have known it was playing with fire when it came to using outlandish claims of voter fraud over the years and nominating Trump to lead the charge.