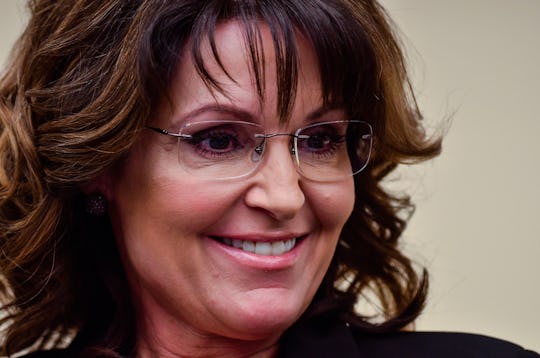 Kris Connor/Getty Images Entertainment/Getty Images
Sarah Palin Being Considered For Secretary Of Veterans Affairs Role
According to ABC News, former Alaska Gov. Sarah Palin is being considered for secretary of Veterans Affairs in President-elect Donald Trump's Cabinet. As a Trump supporter since the primaries, early reports suggested that Palin could also be a top choice for a position leading the Interior Department. Recently, Trump has not said anything publicly about appointing Palin to his administration, but in the past, he suggested it could be a possibility.
In 2015, Trump said he would "love to have the strength of Sarah Palin" in his administration, according to Forbes, and Palin spoke of her desire to work with the Department of Energy. However, just this month, Trump campaign manager Kellyanne Conway hinted that Palin wouldn't be filling a Cabinet role. "I know that they are close," she told Fox News of Trump and Palin. "And that she's been a great loyal friend and advisor to him throughout the campaign. But I haven't seen her as part of the Cabinet mix. But that doesn't mean that she's not."
Despite Conway's hesitance, two Trump transition team members reportedly confirmed to Politico that Palin is indeed up for consideration for the Veterans Affairs leadership position. Others being considered for the role reportedly include former Massachusetts Sen. Scott Brown and Fox News contributor Pete Hegseth.
Palin served as governor of Alaska from 2006 to 2009, but she does not have any military experience. She has, however, commented on the current state of veterans' affairs in the country: When her son Track, who served in the Iraq War, was arrested on suspicion of domestic violence earlier this year, Palin seemed to attribute the incident to post-traumatic stress disorder and how veterans in the United States are treated.
"I guess it's kind of the elephant in the room because my own family going through what we're going through today with my son, a combat vet ... like so many others, they come back a bit different. They come back hardened," she said at a Trump rally in January, according to Business Insider. (Many veterans chimed in on Twitter to criticize Palin's characterization of PTSD, unhappy with the stereotypes Palin used to describe the condition.)
At that same rally, Palin also said veterans needed "a commander-in-chief who will respect them," saying:
They have to question if they're respected anymore ... It starts from the top. The question, though, that comes from our own president where they have to look at him and wonder, 'Do you know what we go through? Do you know what we're trying to do to secure America?'
Neither Trump nor Palin have commented on reports that Palin is being considered for the Veterans Affairs role. Romper reached out to Trump's representatives regarding the possible appointment, but has yet to hear back.