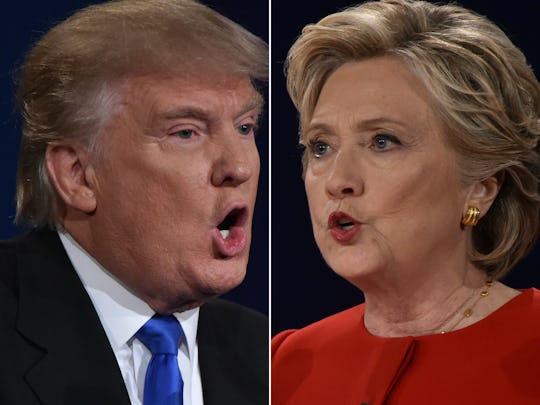 PAUL J. RICHARDS/AFP/Getty Images
Second Presidential Debate Memes That Make This Election Just A Bit Easier To Deal With
While the questions asked at the second presidential debate on Sunday night addressed some incredibly serious and important issues, the internet responded accordingly in a hilarious fashion because even when the stakes are higher than ever for the candidates, the witty minds of social media know how to have a little fun. Even before the nominees took the stage at Washington University in St. Louis, Missouri, the second official faceoff between Hillary Clinton and Donald Trump was already enveloped in controversy — which, unsurprisingly, inspired some hilarious and on-point content. These second presidential debate memes truly embrace the utter craziness that continues to evolve throughout this election season.
There was one particular elephant in the room that was expected to be addressed at the town hall style forum: a leaked 2005 conversation uncovered by The Washington Post between Trump and Access Hollywood host Billy Bush that was caught on a hot mic, revealing the Republican candidate using graphic language to describe how he could he use his celebrity status to get away with groping women. And on the eve of the second presidential debate, CNN's KFile unearthed even more demeaning conversations about women between Trump and radio shock-jock Howard Stern over a 17-year period.
Among the many other pressing concerns — like immigration policies, plans to rebuild the economy, and national security — there was certainly a lot that to talk about.
Unlike the first debate in which moderator Lester Holt from NBC's Nightly News chose the topics and questions to be addressed, Sunday's moderators CNN's Anderson Cooper and ABC's Martha Raddatz selected some of the debate questions by drawing from voter submissions.
While it was unknown what the topics would be until Clinton and Trump stood behind their podiums, it seemed like gun control, immigration policies, and healthcare were some of the top issues Americans wanted to be addressed, judging by the votes cast for each question on the submission website.
Without further ado, let's have a look at some of the best memes, jokes, and tweets from the second presidential debate:
The first presidential debate in September was anticipated to be rather unpredictable and drew in a reported 84 million viewers, but Sunday night's meeting set an unprecedented level of suspense.
With so much at stake for both candidates, it was anyone's guess what the final outcome of the second debate would be. According to CNN, this was Trump's first time taking his campaign to an intimate setting that would require him to speak directly to the audience.
Sunday night capped off a rather extraordinary and dramatic weekend in American politics and having both candidates answer questions in this style was something that many voters needed to witness, as Election Day is now less than a month away.