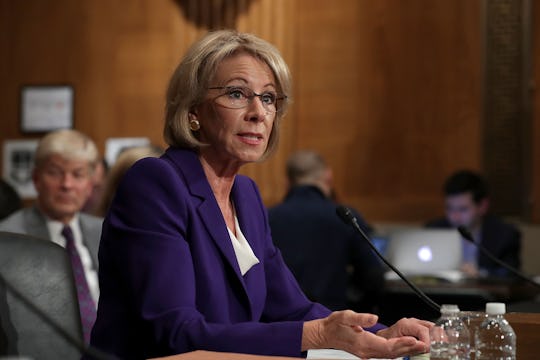 Chip Somodevilla/Getty Images News/Getty Images
Senators' Quotes About Betsy DeVos Are Telling
Earlier today, the Senate confirmed Betsy DeVos as President Trump's education secretary, 51-50. Vice President Mike Pence stepped in to cast an unprecedented tie-breaking vote, as the numbers were split 50-50 for and against her confirmation. Although Tuesday's vote isn't the first instance of this voting responsibility being used by the VP, it's the first time ever that the vice president's tie-breaking ability has been used to confirm a nominee to the Cabinet. DeVos was a contentious pick for the role for many reasons. And online, Senators' quotes about Betsy DeVos show why her confirmation is controversial.
As aforementioned, Tuesday's vote is not the first time a tie in the Senate has been broken by a vote cast by the vice president of the United States — in fact, it's the 245th occasion of this power being used. Pence's predecessor, Joe Biden, did not exercise the ability during his eight years in the same office.
But Pence used it today, in order to confirm DeVos to a position many feel she is not qualified for, based on her record and on her confirmation hearings. According to Politico, "teachers unions, civil rights advocates and a ragtag assemblage of other opponents" organized to contact congressional offices with "tens of thousands of phone calls and more than 1 million emails" in opposition to DeVos.
Now that she's been confirmed, what are senators saying in regards to the vote, and in regards to DeVos' new role in the Trump Administration? If Twitter is any indication, many of them aren't happy.
Senator Chuck Schumer, New York
Senator Schumer of New York tweeted: "This cabinet nom is so unqualified, so divisive, that @MikePenceVP had to drive down Pennsylvania Ave to cast the deciding vote."
Senator Al Franken, Minnesota
Twitter user @kylegriffin1 tweeted about Senator Al Franken's disapproval of the confirmation. "Sen. Al Franken on DeVos' confirmation: "She is the most incompetent cabinet-level nominee I have ever seen."
Franken's statement went on to say:
Betsy DeVos has demonstrated that she is fundamentally unqualified to lead the Education Department, and it's a shame that Republicans voted to confirm one of their major donors instead of looking out for our children."
Senator Tammy Duckworth, Illinois
Senator Tammy Duckworth, Illinois, tweeted, "I voted against Betsy #DeVos' nomination because she is not qualified to be #SecretaryOfEducation," along with a link to a Facebook post she made in regards to the vote.
Senator Chris Murphy, Connecticut
Senator for Connecticut Chris Murphy tweeted, "#DeVos was confirmed in a tie that had to be broken by the VP. Don't be disheartened. Your voices are being heard and we will keep fighting." Murphy was one of the senators who participated in the #HoldTheFloor protest by Senate Democrats, where they spoke against DeVos' confirmation for 24 hours.
As pointed out by Twitter user @xdelmar59, the DeVos family contributed to the campaigns of many senators, though one who voted against her confirmation, Lisa Murkowski, Alaska, received money from the family but still voted against confirming DeVos following an outpouring of opposition from constituents.
On Twitter, @xdelmar59 tweeted, "She literally paid everyone in the room #noDevos," then included a list of senator names alongside contributions to their campaigns from the DeVos family.
There are sure to be a lot more responses from displeased Senators who voted against Betsy DeVos' confirmation in the days to come.