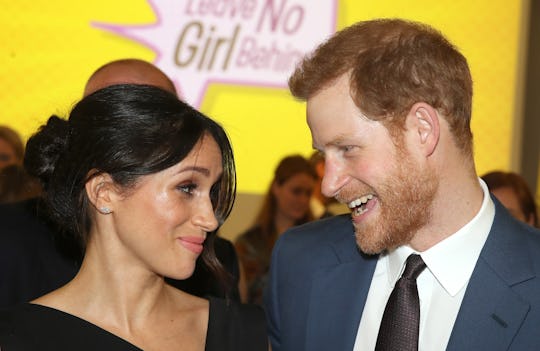 Chris Jackson/Getty Images Entertainment/Getty Images
Serena Williams Has Some Perfectly Simple Advice For Meghan Markle On Her Wedding Day
Surely by now, Meghan Markle is used to people chiming in about every aspect of her life and relationship — especially since she's in a super high-profile relationship with her fiancé, Prince Harry. Now that she's less than one month away from her wedding day, people are probably laying the advice on thick — not that it's always a bad thing, as evidenced by one recent newlywed's words of wisdom for the royal bride-to-be. In fact, Serena Williams' advice for Meghan Markle on her wedding day is so perfectly simple and it's something she can easily take to heart.
During a recent appearance on Good Morning America, Williams took the opportunity to lend Markle some advice ahead of her big day, literally. This past week, according to OK! Magazine, it was confirmed that Markle and Prince Harry's wedding would be televised for people all over the world. And given that Prince William's wedding to Kate Middleton in 2011 brought in an estimated 2 billion viewers, according to The Telegraph, it's likely that Markle's wedding to Prince Harry will do the same. But that is nothing to be nervous about. And Williams, who recently got married to Reddit co-founder Alexis Ohanian in November, had the perfect advice for Markle ahead of this major moment, according to Harper's Bazaar.
"I just think it's so important to enjoy the moment," Williams said. "And eat the cake — I didn't get to eat mine at the wedding. We were just having so much fun!" Talk about some good advice.
Markle and Williams have a lot more in common than you might expect. In spite of Markle being an actress (and soon-to-be royalty) and Williams being a professional tennis player, the two women are actually pretty great friends, according to E! News. Their friendship began in 2014, when they were partnered for a game of flag football (as pictured above). Once they were on the team, they reportedly hit it off, which Markle detailed on her former blog, The Tig. Markle wrote, according to E! News:
We hit it off immediately, taking pictures, laughing through the flag football game we were both playing in, and chatting not about tennis or acting, but all about the good old fashioned girly stuff. So began our friendship.
And once their friendship began, it blossomed into something beautiful. Throughout the years that followed, Markle documented her support for her friend on her now-defunct Instagram and Twitter accounts, according to E! News, attending Williams' fashion shows and tennis matches to show her support. The two really do have a lot in common, as Markle wrote in a blog post for The Tig, according to E! News:
We are both the same age, have a penchant for hot sauces, and adore fashion, but what connects us more than those things is perhaps our belief in exceeding expectations — our endless ambition.
It seems like those sentiments are echoed on Williams' part, too. During her appearance on Good Morning America last week, Williams said, according to Harper's Bazaar, "I'm obviously happy for her. She's such a great girl and she is incredibly nice and I couldn't be happier for her."
Markle has also dished about Williams. Last August, before Williams gave birth to her daughter, Alexis Olympia Ohanian, Markle told Vogue that Williams would make "the best" mom, according to Town & Country. "The very best, because she is so attuned to balancing strength and sensitivity."
Markle's cues from Williams about her wedding day will only have to be verbal, not visual. When Williams got married in early November in New Orleans, Louisiana, Markle wasn't in attendance, according to Hello! Magazine. Instead, Markle was in Toronto, Canada where she was wrapping up filming Season 7 of her TV show, Suits, and she was also gearing up for a pretty exciting announcement herself. Almost 10 days after Williams' wedding, Markle and Prince Harry announced their engagement, according to USA Today, so she was probably a little occupied. And Williams might miss Markle's wedding, too — according to Us Weekly, Markle's wedding falls on the same day as a tennis tournament that Williams is scheduled to play in.
Although the friends might not have physically been with each other on their big days, Williams' advice to Markle for her wedding day is just as valuable.
Check out Romper's new video series, Bearing The Motherload, where disagreeing parents from different sides of an issue sit down with a mediator and talk about how to support (and not judge) each other's parenting perspectives. New episodes air Mondays on Facebook.