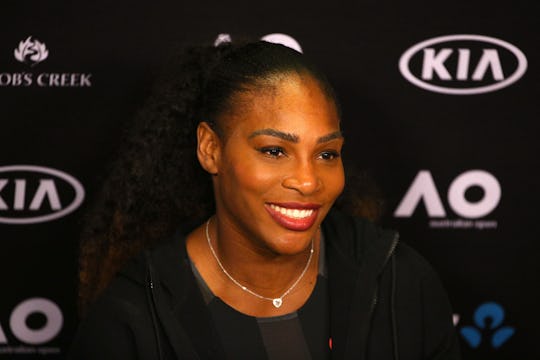 Michael Dodge/Getty Images Sport/Getty Images
Serena Williams Swears By This Book About Pregnancy
One of the best things about Serena Williams is her relatability as a mom-to-be. Following Williams' super chill baby announcement in April, she has continued to be laid back and open about her experiences navigating pregnancy. Similarly to a lot of new moms, Williams is relying on books to educate her on what she should expect after giving birth. Although there a lot of books to choose from, the one book Serena Williams recommends to all pregnant women just so happens to be written by her dear friend Kelly Rowland.
According to ET Online, Williams has nothing but great things to say about Rowland's new book, Whoa, Baby!: A Guide for New Moms Who Feel Overwhelmed and Freaked Out (and Wonder What the #*$& Just Happened). Rowland, who has a 2-year-old son named Titan Jewell Witherspoon, wrote the book to help new moms process all the physical and emotional changes they experience after delivery.
Williams said of the book, according to ET Online:
It's just raw. It's everything that no one wants to tell you. I highlight things in it. I study it. It's been really, really good for me.
As one might expect, this isn't the first time Williams plugged Rowland's book. On April 13, Williams gave Rowland a sweet shoutout on Instagram.
In the post, Williams wrote:
So proud of you @kellyrowland. Ok so this book Kelly wrote is a guide for new moms. One of these days I hope to apply this (but for now I'll stick to my dog Chip). The introduction is hilarious and had me hooked from the first word! Congrats my friend! #whoababy
If you're a Williams historian, you'll note that she penned the message just six days before she accidentally revealed her pregnancy on Snapchat. Knowing what fans know now, it's clear Williams was trying to keep the pregnancy on the down-low until she was ready to share it with fans. Well, you know what they say about best-laid plans...
Snapchat snafu aside, it looks like Rowland's book is a must-have for moms-to-be, especially since she co-wrote it alongside renowned OB-GYN Tristan Emily Bickman, according to Essence.
One of the many topics Rowland candidly addresses in her book is breastfeeding. Similarly to a lot of moms, Rowland struggled to breastfeed and felt disappointment about it. Rowland said, according to CBS News:
I saw so many women do it, you know, whether it was in public or you saw them do it in hospital rooms, and you saw it on movies. It looked so beautiful and glamorous, and I was so excited about it, and it was one that I really struggled with. It didn't last really long for me. My supply was short, and I remember I felt it put a lot of pressure on myself because I couldn't supply as much as I wanted to and I had to supplement.
Based off that quote alone, it looks like Williams was right to call the book "raw." Although some fans might think Williams plugged the book to help Rowland out, it's also totally possible that the book is genuinely her post-delivery bible. Either way, it's nice to see a celebrity like Rowland putting her experiences out there to hopefully help other moms.