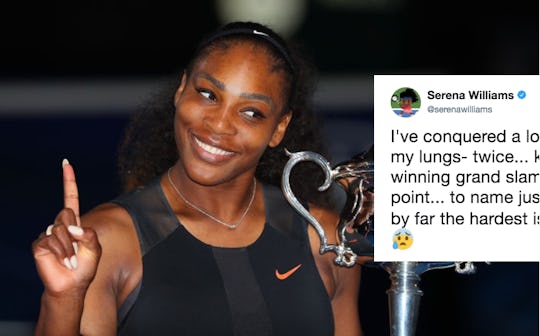 Scott Barbour/Getty Images Sport/Getty Images
Serena Williams Seriously Can't Deal With Her Stroller & Moms On Twitter *Feel* Her Pain
Whenever I think of Serena Williams, I sort of think of her as invincible. Which isn't actually fair, is it? I mean, sure she's arguably one of the strongest female athletes of our time. She manages to be cool, tough, impressive, and accessible all at once. But, I am somewhat shamefully happy to report, even she struggles with some basic mom stuff. Like strollers, for instance. Earlier this week, Williams admitted she seriously can't deal with her stroller, and basically every mom took to Twitter to commiserate.
The new mom and four-time Olympic gold medalist took to Twitter on Saturday to share a little secret. Despite having won 72 career single titles as a tennis player — including a record-breaking 23rd Grand Slam win when she was pregnant with her daughter, Alexis Olympia Ohanian Jr. — it seems she can be defeated. I know, it didn't seem possible, did it? But I'm here to tell you it is definitely possible... by something as supposedly innocuous as a child's stroller. As Williams wrote:
I've conquered a lot of things... blood clots in my lungs - twice... knee and foot surgery... willing grand slams being down match point... to name just a FEW but I found out by far the HARDEST is figuring out a stroller!
For anyone out there who hasn't had to try to figure out a stroller... let me fill you in. There are many brands of strollers out there, some of which imply a certain ease of use in their advertising. As though opening your stroller and putting your baby inside it will be as simple as the push of a button! But the reality is this; it's about as simple as trying to solve a Rubik's Cube while wrestling a squalling baby. And you're exhausted. And you have that mom brain thing going on where you can't remember how to do anything because you're exhausted all the time.
So when Williams, a career athlete and feminist icon, admitted that struggling with her stroller was the most difficult thing she had done, the internet breathed a sigh of relief. They were not alone.
Some parents were quick to point out that, while the stroller debacle might seem tough, Williams and her husband, Reddit co-founder Alexis Ohanian, should expect some bumpier times ahead.
Because Lego exists, and they love to get under your bare feet in the middle of the night.
Williams is, of course, quite new to parenthood. She gave birth to her daughter on Sept. 1 of last year. But that doesn't mean she hasn't seen her fair share of difficulties already, starting with her daughter's difficult delivery. The tennis star told Vogue during a recent interview that Olympia was born by emergency C-section after her heart rate dropped dangerously during contractions. Then the day after she gave birth, she found herself feeling lightheaded; Williams has a history of blood clotting, and doctors discovered several small blood clots in her legs, according to her interview with Vogue. She went on to have one of her C-section wounds tear open, and found a large hematoma in her abdomen during the surgery meant to repair the wound, as she told the publication.
So... yeah, the girl knows a little something about struggling as a new mother already. And that in itself should tell you something about the specific hell of trying to figure out how to use your damn stroller. Especially when the stroller is supposed to represent freedom. A sleeping baby in a stroller means a quick stop at Starbucks for a coffee, walking with your limbs free. Maybe even shopping a bit if you're lucky.
And now that Serena Williams has deemed strollers too difficult to figure out... can we get a new model, guys? Please?
Check out Romper's new video series, Romper's Doula Diaries:
Watch full episodes of Romper's Doula Diaries on Facebook Watch.