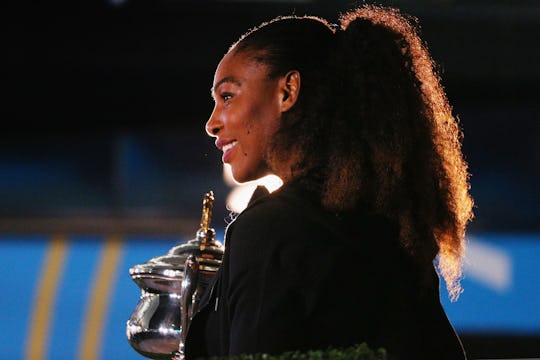 Michael Dodge/Getty Images Sport/Getty Images
Serena Williams' Videos Of Her Daughter Prove The New Addition Was The Best Part Of Her 2017
Serena Williams had a very exciting year to say the least. The new mom started out the year by finding out she was pregnant, gave birth in September, and got married to husband, Reddit founder Alexis Ohanian, shortly after that. While all of this was incredibly exciting, only one of these made 2017 her best year — the birth of her daughter, Alexis Olympia Ohanian. In a final Instagram post to recap her crazy year, Serena Williams' videos of her daughter prove that the new addition was the best part of her year.
Williams only gave birth to Olympia in September, but nothing could top the major event for Williams. On New Year's Eve, Williams took to Instagram where she shared 10 random, never before seen videos of Olympia to show just how exciting her year has been. "My final top 10 moment of 2017 of course includes Olympia Ohanian," Williams wrote in the photo's caption. "They say save the best for last."
In the three months since Williams gave birth, her baby has grown so much. And in a rare glimpse of her personal life, Williams let fans really look at how great Olympia made her year. Seriously, this child could not be any cuter.
These videos give a different look inside of Williams and Ohanian's life with little Olympia and honestly? Although Williams is considered to be one of the best tennis players of all time and Ohanian invented one of the most popular websites nowadays, their parenting life could not not look any more normal. You, too, would have a great year if your life looked as great as theirs.
As previously stated, Williams started off the year by finding out that she was pregnant Olympia — and winning the Australian Open a day later, according to Insider. Williams told Vanity Fair how it went down in the beginning of the year that she had felt physically different before playing in the open, so she took six pregnancy tests — which she handed to Ohanian in a brown paper bag. Because of this win, Williams set the title and record for 23 grand singles title, according to the BBC.
But Williams had to take a break from tennis when she accidentally spilled the beans that she was expecting her first child with Ohanian, whom she was engaged to at the time, on Snapchat in April. This forced Williams to announce her pregnancy days later. In an interview with Vogue in August, Williams revealed her hopes and wishes for her child — and told Vogue that she had suspicions that her unborn child might be a girl:
Alexis thinks we're having a boy but I have a strong suspicion that it's a girl. Two weeks after we found out, I played the Australian Open. I told Alexis that it has to be a girl there I was playing in 100 degree weather, and that baby never gave me any trouble. Ride or die. Women are tough that way.
Williams was right. One month later, Alexis Olympia Ohanian Jr. was born and she could not have been any cuter and Williams could not have been any happier to be a mom. Shortly after Olympia was born, Williams penned a letter to her own mom on Reddit, praising her for raising Williams and her siblings.
But Williams' incredibly exciting year wasn't over, yet. Williams and Ohanian finally tied the knot in November in New Orleans — celebrating with celebrity guests, musical performances, and a carousel — topping off her amazing year.
Even though all of these very exciting things happened in the year for Williams, nothing topped the birth of her first child. Her Instagram compilation for the year proves that.
Check out Romper's new video series, Romper's Doula Diaries:
Watch full episodes of Romper's Doula Diaries on Facebook Watch.