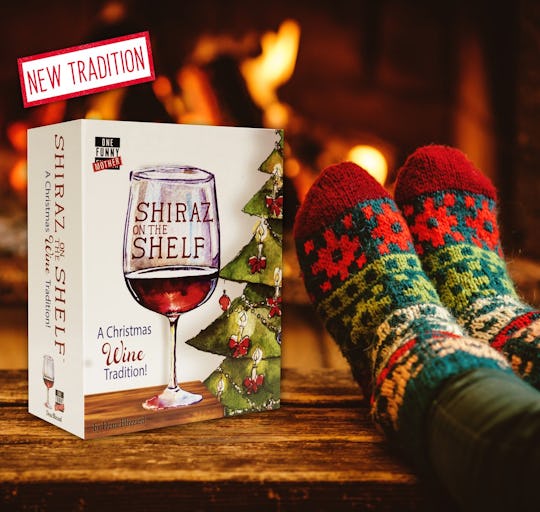 One Funny Mother
Shiraz On The Shelf Is What Every Tired Parent Needs This Christmas
The holidays can be a pretty magical time when you have kids, but the introduction of the Elf On The Shelf in recent years has really upped the stakes for what's expected from parents at Christmas. The idea, of course, is that the little holiday elf basically becomes a go-between for Santa, watching over the family and letting the big guy know who has been naughty or nice. But with Pinterest full of endless Elf scenarios, each seemingly more elaborate and clever than the last, it also feels kind of exhausting. Know a mom who's all elf-ed out? Shiraz on the Shelf is the new holiday tradition for parents, and honestly, it's a gift that is almost guaranteed to get an appreciative laugh out of worn out moms and dads.
The wine-inspired gift was the brainchild of comedian Dena Blizzard of One Funny Mother, according to People, and brings a much different kind of festive spirit to the table. The description on Blizzard's online store explains, "Place your Shiraz on the Shelf glass out each night so it can be filled with wine by morning, making the holidays bearable."
The set also includes an Elf On The Shelf-inspired illustrated booklet and Christmas poem, though, unfortunately, the wine itself is not included.
In other words? Shiraz on the Shelf pretty much seems like the perfect companion for anyone actually staying up after the kids go to bed in order to set up elaborate new elf activities for their kids to find in the morning. On Instagram, for example, some truly creative parents have photographed their family's elf swapping out the toilet paper roll for Christmas duct tape, taking selfies, or drawing some Sharpie art on the items in the fruit bowl.
Others have fashioned a hammock for their elf to hang from the doorway pull-up bar, according to HuffPost, and for good measure, one Instagram user even shared a pic of her family's elf performing for The Voice judges Blake Shelton, Gwen Stefani, and Adam Levine (or, at least in front of photos of their faces taped to red, plastic cups).
As brilliant as it may be though, Shiraz on the Shelf isn't actually Blizzard's first clever wine-themed product. She has also released a board game called Chardonnay Go, inspired by a 2016 viral video she created to parody the super popular Pokemon Go app:
While, unfortunately, she was unable to recreate the fictional app that connected moms to glasses of wine around their neighborhoods, she did create a game for "wine lovers, moms and other shameless people" based on the idea, described as the "perfect combination of the classic board game and dirty charades."
Of course, the "mommy wine" culture definitely isn't for everyone, and instead of drinking our way through the holidays to survive the pressure, we could just not bother trying to make every moment positively thrilling for our kids. But hey, Shiraz on the Shelf is clearly all in the good fun, and what's more is that it seems like it'd make a great gag gift for a white elephant gift exchange — or just for your mom friend who's got a great sense of humor and likes a nice glass of vino.
Even though most people seem to go into the holidays with the intention of just enjoying time with their loved ones, the expectation that it's supposed to be a time of perfectly decorated trees and meticulously wrapped presents that have been carefully chosen for friends and family can feel like a ton of pressure. So whether a way to help ease you through the often-crushing expectation of holiday tradition, or just a fun gift set to pass along, Shiraz on the Shelf definitely seems to have you covered.
This first-time mom wants to have a home birth, but is she ready? Watch how a doula supports a military mom who's determined to have a home birth in Episode One of Romper's Doula Diaries, Season Two, below. Visit Bustle Digital Group's YouTube page for the next three episodes, launching every Monday starting November 26.