It turns out, sometimes you can't distract people. Even when adorable baby giraffes are born (congratulations April), or even when the latest Star Wars trailer dropped. OK, perhaps I might have gotten a little distracted by the Star Wars trailer, but then I was back at it. The same could be said for thousands of protesters across the country on Saturday for the Tax March. Despite several attempts to distract Americans, signs from the Tax March proved many people are not going to give up until President Trump finally releases his tax returns.
President Trump once said in a press conference that people didn't care about seeing his tax returns, pointing the finger at the media and saying they were really the only people concerned with seeing his tax returns (to be clear, every president and presidential nominee in the past 40 years has released their tax returns. And it is especially important for a business person with international ties to do so). He said this after having promised to release his returns once he was done with being audited... but those returns never appeared. And, contrary to what Trump has said in the past, Americans do seem to care about his tax returns. According to CNN, a recent poll suggests 74 percent of Americans care, bigly.
And people are marching on April 15, which is historically "tax day" in the U.S. (this year it is technically April 18 because of the long weekend, so don't panic). Thousands of people who believe, as the Tax March website suggested, that "The public has a right to understand the financial relationships and potential conflicts of interest of their elected leaders."
People are marching in Chicago.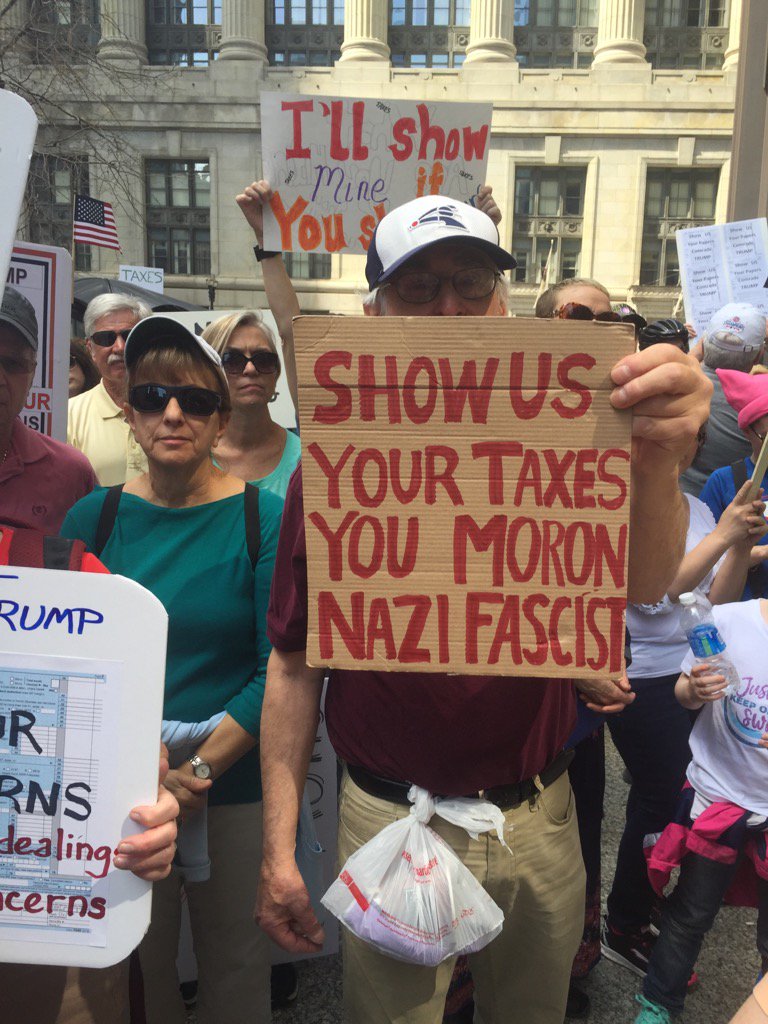 They are marching in Los Angeles.
Someone is waving this spicy sign in New York, bless.
And this one.
They are marching in Washington, D.C.
This one from Boise, Idaho is a particular favorite of mine.
And wherever these people are.
And for the big mic drop, Game of Thrones reference...
Protesters marched in Philadelphia, in Denver, and close to Trump's Mar-a-Lago estate in Florida. All in all, the Tax March was well attended in at least 150 cities across the country. This latest organized demonstration looks to be the largest since the Women's March in January, the day after Trump's inauguration. And it all started with a tweet.
Jennifer Taub, a law professor from the Vermont Law School, got incensed when Trump adviser Kellyanne Conway insisted that voters just didn't care about Trump's tax returns and that he wouldn't be releasing them. She tweeted the idea for a protest, and things began to snowball. Comedians like Frank Lesser, Patton Oswalt, and Billy Eichner got involved, and word spread, according to The Guardian.
Now we just need to wait and see whether or not the president will relent and do what's right. Waiting.... waiting...