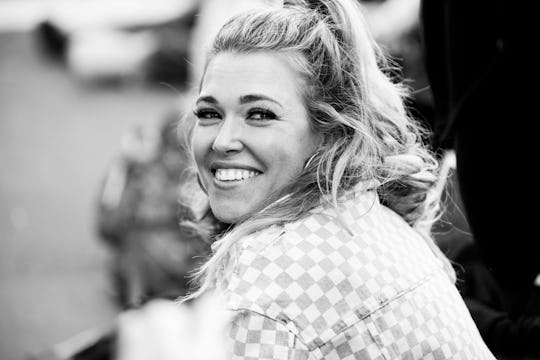 Emma McIntyre/Getty Images Entertainment/Getty Images
Fans Love Rachel Platten's Message About Respecting Pregnant People's Bodies
"Fight Song" singer Rachel Platten announced her first pregnancy on July 31. Fans were thrilled for Platten, to say the least, and she penned a sweet message thanking them for their support. But just four days after the cute announcement, Rachel Platten issued a public PSA about why it's not OK to comment on a pregnant person's body. Platten's emotional note was inspired by a well-meaning friend who commented on the bigger size of her hips and butt. Apparently, the remark brought Platten to tears, and her story highlights why a person should never comment on a pregnant person's appearance.
Although Platten was over-the-moon to discover she's pregnant, her pregnancy journey hasn't been easy. From issues with "serious nausea, exhaustion, constant sickness" to worries about seeming "ungrateful" for her pregnancy, Platten has endured some struggles these past few months. Sadly, Platten's journey hit an especially low point when an "excited acquaintance" made a remark about her changing looks. Platten, who is admittedly sensitive about her new body at the moment, cried for an entire "30 minutes" about the incident. Ugh. It's sad to learn Platten had to deal with this situation on top of her other pregnancy woes.
Patten recalled on Friday, according to Instagram:
Hi so yesterday an (excited) acquaintance told me "wow your hips and butt look way bigger! So cool!" UMMMM. 😐😐😐😐😐then i cried for 30 minutes. Because ive also noticed my body changing because DUH I'm making a human but I'm like "oh I'm being hard on myself no one can tell." But when she pointed it out publicly it stung so bad! For so long i have had to keep my body a certain way and it's NICE and freeing to just let it do what it needs to and I'm proud that I'm letting my baby get all the nourishment it needs. BUT....Can we just put it out there that it is never cool to tell any woman their ass got bigger (or smaller). Just don't comment. Even if you're excited because it signals to you the miracle of life is happening - it's still our bodies and it's sensitive! Ok thanks as long as we all agree.
Well-said. Positive or not, it's always best to keep quiet regarding other people's bodies. Not only is it impolite, but it's also presumptuous. In Platten's case, her friend likely assumed the comment would be perceived positively. What the friend didn't know, however, was that Platten had some insecurities about her changing body. It just goes to show you can never know how another person might be feeling about their body. If someone wants to discuss their body with you, they will.
Following Platten's message, many people took to the post's comments section to share similar anecdotes.
One person penned, according to Instagram:
Wow! Happened to me 22 years ago but it was a man neighbor & I chalked it up to that but it hurt & I also cried! Shame on people that don't know any better! I think you look amazing but you need to be the one that thinks that of yourself! So go think that!!!
"Bah! Someone told me today I must be having a girl since my hips and booty look bigger and I'm like... Ummmm, thanks? Im with you!" another fan chimed in. "You're not alone! #bigbootiebrigadge."
"Can totally relate! My MIL told me I was huge at my baby shower," a commenter recalled. "I almost did not attend. Lol. Be gentle with yourself your growing a human!"
Others offered Platten messages of support. One person wrote:
Hi Rach i'm so sorry! whoever said that was WAY out of line and was being considerably rude in my opinion. don't be ashamed of your body! it's beautiful and now it's making another beautiful little human! i'm so proud of you with everything you've gone through and how you handle all of these situations with such grace!! we all love you Rachel and we are here to support you no matter what!!!!
"You're beautiful just the way you are!" someone else chimed in. "And that baby is gonna be lucky to have a mom like you!"
"I love you so much. You are beautiful just they way you are!!! Just focus on you and your baby screw what others think," a fan responded. "I know easier said than done just know your beautiful!!"
It goes without saying Platten is lucky to have so many allies in her corner, and one can only hope parents who might be in a similar situation have the same level of support. No parent — famous or not — should have to deal with body-shaming.