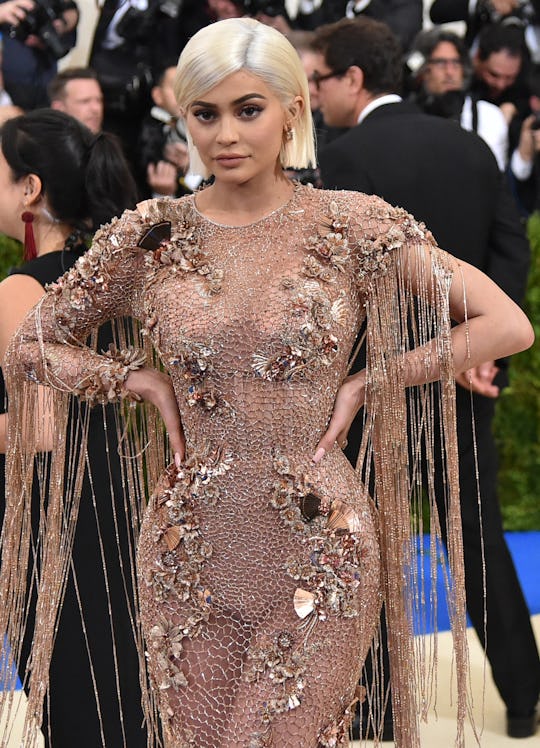 Mike Coppola/Getty Images Entertainment/Getty Images
This New Kylie Jenner Conspiracy Theory Has Some Fans Convinced The Star Has Already Given Birth
Ever since rumors of Kylie Jenner's reported pregnancy started swirling back in September, it seems like fans have basically been camping out on the reality star's social media accounts and hitting "refresh." Wait, is that a bump? Was that subtle reference to her "babies" actually a confirmation of her pregnancy? Why was Kylie missing from the Kardashian Christmas card? What is even real at this point?! Amid the makeup mogul's continued silence concerning the pregnancy reports, yet another theory has come to light. And this new Kylie Jenner conspiracy theory has some fans convinced the star has already given birth.
TMZ first broke the news of Jenner's reported pregnancy on Sept. 22, followed almost immediately by news of her sister Khloé' Kardashian also being pregnant, reported Us Weekly. (Not to mention, the rumors that Kim Kardashian was expecting her third child via surrogate.) Suddenly, Keeping Up with the Kardashians had taken on a whole new meaning. Some of the early theories speculated that either Khloé or Kylie was serving as Kim's surrogate. Others thought that Khloé wasn't actually pregnant herself, but would raise Kylie's baby as her own, instead. Still other fans suspected all of this baby business was a ploy to boost ratings and make the family even more rich than they already are. Out of all of the conspiracy theories floating around out there, the idea that Kylie was pregnant and has already given birth seems to be the most believable.
Us Weekly reports that fans have been speculating about the possibility that Kylie already delivered her first child. (Honestly, I had never considered that until now. Mind = blown.) The theory comes in light of new photos that have surfaced of Kylie dating all the way back to September, when she threw a surprise birthday party for her friend, Jordyn Woods, according to the publication. It isn't clear how these paparazzi photos suddenly appeared, but one site that has them is X17, and you have to admit — the woman resting her arm on her belly in the shot does look an awful lot like Kylie. Because "Kylie" appears to be decently far along in the photos (according to some people,) fans believe her due date may have very well passed. "Kylie Jenner has not posted on social media in quite a while....you think she actually was pregnant and gave birth already?" one Twitter user wrote on Dec. 23.
"My theory is Kylie Jenner will never say she's pregnant and she's just gonna Instagram her baby when it pops out," another person surmised on Dec. 26.
And plenty of others seem to be on the Kylie-is-already-a-mama train.
The Daily Mail reports other fans thought Kylie might have already delivered her baby, and that the final Kardashian Christmas card would definitely show Kylie holding her new little bundle. "Guys what if day 25 of the Kardashian Christmas card is just Kylie holding her goddamn baby?" one person tweeted.
Granted, it might have been digging a little too hard, but one Twitter user saw this photo of day 24 of the Kardashian Christmas card countdown as proof that Kylie already had her baby. See how many members of the family are all look off-screen at the same spot? Clearly, they're all admiring Kylie and her little one. Right? I'll let you be the judge.
Except, the final Christmas card photo already came and went — and maddeningly, there was still no sign of Kylie. Cue: KUWTK fans screaming, "Nooooo!" Luke Skywalker style and spending the rest of Christmas sobbing while continuing to refresh Kylie's social media accounts.
If it turns out Kylie Jenner somehow already delivered a baby without the world knowing about it, I would be stunned. In the age of social media, leaked news and "anonymous sources close with the star," it would be quite a feat for a Kardashian to procreate without someone finding out by now. But I kind of hope it's true. Because celebrity or not, parents should be the ones in control of when and how their baby news is shared. Good for you, Kylie!
Check out Romper's new video series, Romper's Doula Diaries:
Watch full episodes of Romper's Doula Diaries on Facebook Watch.