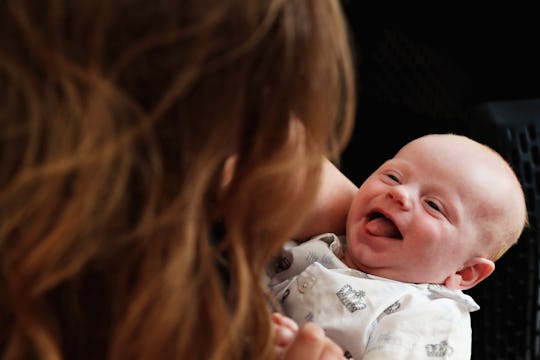 Mark Thompson/Getty Images Sport/Getty Images
Stats About Millennial Moms Raising Smart Kids
According to Refinery29, a Pew Center analysis of information from the National Center for Health Statistics shows there are more than 16 million millennial moms in the U.S. That's a lot of new babies born to millennials! And like any parent, millennial moms worry about their kids' futures — will they be healthy? Smart? Happy? But there are stats about millennial moms raising smart kids with the abundance of tools they have that should put the minds of mothers of the millennial generation at ease.
Refinery29 reported that in 2016, the site polled more than 3,000 women ages 18 to 49 in cities across the United States and the United Kingdom to find out where the goal of having their first child landed on a list of important life milestones. It was reportedly number 16 out of 20. That's pretty far down the list. But the Pew Research Center reported in 2011 that having children and committing to parenthood is a major priority for millennials.
MotherMag reported that mothers between the ages of 18 and 32 who have a kid (or are expecting) are generally considered part of the "millennial moms" group. That outlet also reported that 83 percent of new babies in the U.S. are born to millennials. And, according to the 2015 State of Motherhood report that site pulled information from, three out of four of the respondents to the poll conducted for that report stated that they find it important to try to be a "perfect" mom.
What will that goal of being "perfect" mean for millennial moms and their kids as they grow up? How much information do we have about whether these millennial moms, who are striving for perfection in parenthood, are having kids who are smart, or healthy, or kind, as compared to other demographics of mothers?
How do millennial moms work to be "perfect" parents, and to do it all for their post-millennial tykes? The BabyCenter 21st Century Mom Insight Series: 2015 State of Modern Motherhood Report, published in February 2015, found that "US millennial moms are more likely to own smartphones than laptops/PCs." Mic.com reported in 2013 that a study by Common Sense Media revealed 38 percent of children under the age of 2 used a mobile smartphone or tablet for learning activities, playing games, and watching videos, and more. The use of technology likely helps modern moms multitask — and smartphones and tablets could help their kids learn, too. In 2009, The Atlantic reported on a study that concluded that classes using online learning produced better results. If technology that can use online learning is in the hands of so many millennial moms, there's a chance their kids will be better prepared to use that technology in classes later.
And though there are some studies, like one from the from the London School of Economics, that say mothers who have their babies later in life are more likely to have smarter kids (as in, they have better cognitive ability), than those who have them earlier, that's not an established fact across the research spectrum, and other factors that impact millennial moms could still help them to raise smart, healthy, successful kids.
The State of Motherhood report also found that, when it comes to health-related concerns, U.S. millennial moms are two times more likely to own a wearable health and fitness tracker than the general population. WebMD suggested that moms with healthier habits might have smarter children, which could play into their baby's intelligence. Healthier habits, in their explanation, included healthier eating, and avoiding drugs, alcohol, tobacco, and caffeine, even before conception.
Plus, a study from the University of Adelaide found that children fed healthier diets early on may have a slightly higher IQ. So, given that millennial moms are so aware of their overall health thanks to fitness trackers and the like, and have more access to information via the Internet on smartphones and other devices in regards to their own diets and the diets they should encourage in their kids, that could mean good news for their babies being smarter later on. Between the use of technology and healthier habits tracked by technology, millennial moms might have a chance of raising smarter children.
Recently though, one tip regarding parents who might be trying to give their kids a chance at being smarter was debunked: the New York Times reported that studies published by the Cochrane Collaboration found there was "no clear evidence that formula supplementation with DHA...improves infant brain development."
BabyCenter also reported that two recent studies doubt the idea that DHA in formula or prenatal vitamins can increase a baby's intelligence. Both found no evidence that the DHA supplements affected children's intelligence or gave them better eyesight. Since the idea that this could make a baby smarter is in question, adding DHA supplements to their own regimens or to their baby's formula is not something millennial moms need to be concerned with doing based on studies and statistics — unless, of course, the supplements are recommended by a doctor for whatever reason.
Ultimately, the generation of kids being born to millennial moms is still young enough that there aren't a whole lot of statistics out there about whether anything millennial moms do will definitely make their kids smarter or not. The children of millennial moms just haven't been around long enough to be studied enough for there to be a wealth of information yet.
And MotherMag reported that eight out of 10 moms who were surveyed in the State of Motherhood study said that motherhood is "exhausting…but fun." Why should millennial moms add another layer to that exhaustion by worrying whether their age — or habits they form in relation to technology or health because of their age — will positively or negatively impact the intelligence of their babies and influence whether they are "smarter"? If millennial moms are committed to their kids well-being, health, and happiness, they've already got a great head start.