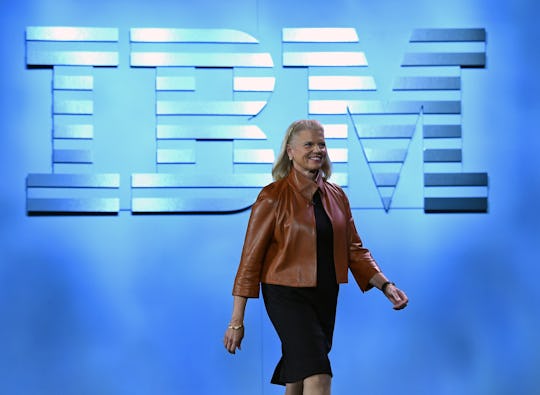 Ethan Miller/Getty Images News/Getty Images
Female CEOs Are Making More Than Male CEOs
There's no question that, in 2017, the fact that the gender wage gap continues to exist is a big problem. What's also a problem though, is that it often feels impossible to have a conversation about it without someone insisting that the entire notion of equal pay for equal work is feminism's way of ignoring the fact that women just don't work as hard as men, or that they aren't as committed to their careers. Anyone who subscribed to that line of thinking may have been pleased by The Wall Street Journal's recent analysis of S&P 500 leaders, as the study found that female CEOs are making more than male CEOs (take that, feminists!). But when you look beyond the headline, it's clear that there is a much more important takeaway that shouldn't be ignored.
First, the good news: female CEOs in America are doing extremely well for themselves. According to The Wall Street Journal, the median compensation package for a female CEO in 2016 was $13.8 million, compared to $11.6 million for men. What's even more encouraging is that this isn't exactly a new trend: female CEOs at American S&P 500 businesses have actually out-earned men for the past six years. And while, in general, the gender pay gap hits women of color even harder than white women (according to Payscale, white women earn 78 percent of a man's earnings, while black women and Hispanic/Latina women earn 63 and 54 percent respectively), two of the six top-earning female CEOs in 2016 were women of color, according to Business Insider.
But despite the fact that the numbers seem optimistic, the disappointing reality is that they don't even sort of tell the whole story. While it's encouraging to see that women in the top of their fields are being paid so well, the truth is that, well, there aren't actually very many of them. According to The Wall Street Journal, of the 403 CEOs studied (to be eligible, they had to have held the role for at least a full year), only 21 of them were women — a whopping 5 percent. The remaining 382 of them were men. And that's not a new trend, either: in the previous year's analysis, there were 28.
That seems particularly frustrating though given that the female CEOs are actually outperforming their male counterparts. According to The Wall Street Journal, the businesses run by women generated a greater median total shareholder return in 2016 than those run by men (18.4 percent versus 15.7 percent), and that's been the case for the past three years. Yet still, the majority of companies are run by men.
What's more is that even when female CEOs outperform their male counterparts, they aren't always seen as being deserving of their higher pay. According to the Associated Press, 2016's highest-paid female CEO was IBM's Ginni Rometty, who earned $32.3 million. As far as CEO salaries go, that isn't outrageous — as Business Insider noted, IBM is "one of the biggest, most venerable tech companies in the world," and according to the American Federation of Labor's executive paywatch list, plenty of other leaders make much more than she does. Yet, according to The Wall Street Journal, at IBM's annual shareholder meeting this spring, about 46 percent voted to "[oppose] the company's executive pay practices," which marked "a record level of IBM investor opposition for a 'say-on-pay' vote."
To be sure, the fact that so many shareholders believe that Rometty isn't deserving of her salary and bonuses might not be related to the fact that she also happens to be a woman. But it also might have something to do with the perception that women are generally overpaid in top roles just so that companies don't appear to be underpaying them. When asked about female CEOs' higher pay by The Wall Street Journal, compensation advisor Robin Ferracone said, boards "err on the side of being generous," when it comes to compensating female CEOs, "because they "don't want to shortchange [them] in today's environment, when pay equality is such an issue."
Yes, it's great that the women already in these roles are succeeding, but even with lower median pay rates, the reality is that men are still overwhelmingly more likely to find themselves in top-level positions. And that's not just an issue female CEOs face: according to TIME, for example, a 2016 JAMA Internal Medicine study found that male doctors earn about $20,000 more than women do on average, even though, according to a 2016 study by the Harvard School of Public Health female doctors had better outcomes than male doctors do.
Rather than stopping at simply applauding these female CEOs for their success, it seems that what we need to be asking is why we aren't seeing more of them? While it is encouraging to hear that they are making such important strides, it's also very clear that there is still a long way to go before findings like these can be considered a win for gender equality.