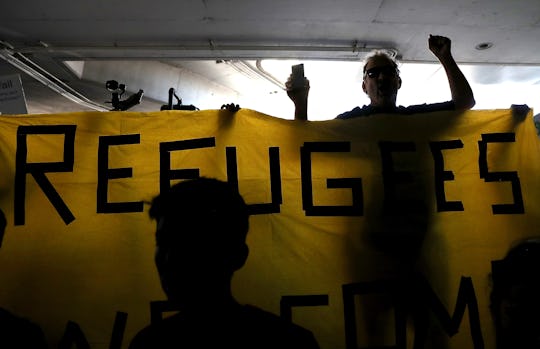 Justin Sullivan/Getty Images News/Getty Images
This Syrian Mother May Miss A Very Important Event
Every day, more stories of people affected by President Trump's new immigration order come filtering in. Stories of people whose lives have been put on hold, thrown into chaos, or upended because of Trump's temporary immigration ban of seven Muslim-majority countries. Imagine what it must be like for the Syrian mother in an Oscar-nominated documentary to miss the award show because of Trump's immigration order, how excited she must have been, and how it likely felt to have the rug pulled out from under her in an instant.
Watani: My Homeland was filmed over three years and follows a Syrian family as they attempt to resettle in Germany after having escaped their war-torn country, according to People. The documentary follows the family of Syrian Army Commander Abu Ali, his wife Hala, and their four children (Hammoudi, Helen, Farah, and Sara) from their lives on the front lines in Aleppo to Germany. Watani: My Homeland was directed and filmed by Marcel Mettelsiefen and has been nominated for Best Documentary Short Subject. Director Mettelsiefen, who traveled to Syria 25 times during the filming of the documentary, was planning to bring Hala Ali to the Oscars. A spokesperson for the film told People that might not be happening after Trump's immigration order:
Watani: My Homeland director Marcel Mettelsiefen has invited one of the subjects of his film to join him at the Oscars. It is currently unclear if Hala, the courageous mother in the film, will be able to attend the ceremony due to President Trump's travel ban. If she is able to enter the country, she plans to attend with the filmmaking team.
According to Trump's immigration order, citizens of seven countries ( Iran, Iraq, Libya, Somalia, Sudan, Syria and Yemen) may not enter the United States for 90 days. (Syrian nationals may be barred for a longer period.) Secretary of Homeland Security John Kelly recently told Reuters that some of the countries listed on the temporary ban could possibly remain on the barred list indefinitely:
Some of those countries that are currently on the list may not be taken off the list anytime soon, if they are countries that are in various states of collapse, as an example.
As a Syrian living in Germany, what does this mean for Hala, a woman who has suffered so greatly and come through so much, who deserves to be celebrated and feted for her courage and strength in the face of genuine hardship? It's a slap in the face. A cruel rebuff. As director Mettelsiefen said in a statement condemning the ban:
This travel ban from President Trump is another devastating blow to refugees who have already suffered so much. As Trump seeks to demonize refugees and Muslim people in general, films such as Watani: My Homeland, which tell the human story of refugees, become ever more important. We must reconnect with the common humanity of the refugee experience and we must all remember that the founding story of America is dependent upon people who have fled war, hunger and poverty in search of a better life.
As for Hala Kamil, who was honored at the World Humanitarian Day ceremony in New York City in August, how does she feel? In a speech at the event, she pretty much summed it all up beautifully:
Ladies and gentleman, as I stand here for you today, my beloved Aleppo is burning. 275,000 men, women and children are under siege and two million are living in fear of besiegement. They cry out, but they are met with silence — the world does not hear them. Instead, the world hears the echoes of gunshots and explosions, tormented by images of arms-wielding terrorists killing in the name of Islam. Well, not in our name. Not in my name.
If anyone deserves her day to shine at the Oscars, it's Hala.