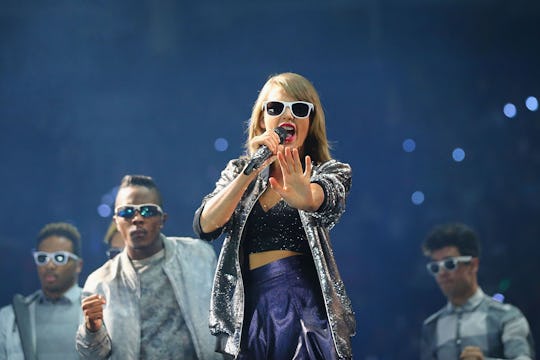 Dilip Vishwanat/Getty Images
Taylor Swift Is Being Sued For "Shake It Off" Plagiarism, And Here's Why It's Mostly Bogus
This weekend, R&B artist Jesse Graham sued Taylor Swift for $42 million, alleging that lyrics from her 2014 hit, "Shake It Off,'" were stolen from his 2013 song, "Haters Gone Hate," according to the Daily News. Swift's representatives have yet to comment, but right off the bat there's reason to question whether Swift even knew about "Haters Gone Hate"  — a song that has just over 389,000 listens on YouTube. Graham currently has 27 YouTube subscribers, and it seems pretty likely that many of these 389,000 listens are a result of the lawsuit. Oh, and did I mention that Graham is preparing another lawsuit? Yep. Graham told the Daily News that he's planning to sue CNN over the title of its morning show, New Day. Graham doesn't exactly come off as highly credible.  
But the proof is in the pudding, right? Musically, the two songs are totally different. Taylor's 'Shake It Off' is an upbeat, highly danceable pop song, while Graham's 'Haters Gone Hate' is a highly mediocre, slow-moving R&B jam. There are, however, undeniable lyrical similarities between the two. Here's the chorus to Graham's song:
Haters gone hate/players gone play/watch out for them fakers/they will fake you every day.
And here's the chorus to Swift's song:
Cause the players gonna play, play, play, play, play/and the haters gonna hate, hate, hate, hate, hate/baby I'm just gonna shake, shake, shake, shake, shake/shake it off/shake it off/heartbreakers gonna break break break break break/and the fakers gonna fake fake fake fake fake.
The obvious similarities here are "players gonna play," "haters gonna hate," and "fakers gonna fake." Graham believes that these lyrics are plagiarized. "Her hook is the same as mine," Graham told the Daily News. "If I didn't write the song 'Haters Gone Hate,' there wouldn't be a song called 'Shake It Off.'"  
Given the stylistic differences between the two songs, it's easy to see why the Twitterverse is mostly skeptical. One user calls the lawsuit ridiculous while also claiming that Jesse Graham needs to 'swerve,' which can't be a good thing. 
This isn't the first time, though, that Swift has been accused of ripping off content, according to the Daily Mail. In July, a Twitter user identified similarities between the music video to Swift's "Bad Blood," and the music video to a Korean pop group's song, "Come Back Home." This other copying accusation is why Graham's lawsuit seems to hold water with some, including this Twitter user, who slyly references "Bad Blood" in context of Graham's new allegation:
Really, though, scattered accusations of copy-catting seem inevitable, given Swift's massive popularity. When tens of millions know Swift's songs in-and-out, people are bound to occasionally recognize similarities — including unintentional similarities — between Swift's work and the work of others. 
Still, it's hard to deny that in this case, the lyrics are quite similar. "Haters gonna hate" strikes me as a fairly well-known colloquialism that Graham can't really claim ownership over. Same goes for "players gonna play," amiright? But what about "fakers gonna fake"? The inclusion of all three of these in Swift's song is what makes Graham's claims seem at least vaguely legitimate. Sure, Graham says "watch out for them fakers," while Swift says "fakers gonna fake," but it's the hater/player/faker trifecta that gives Graham a tiny, shaky little leg to stand on. 
But no matter; in my mind, the words of "Shake It Off" will always belong to Tay, and no one else.
Images: Getty; Giphy