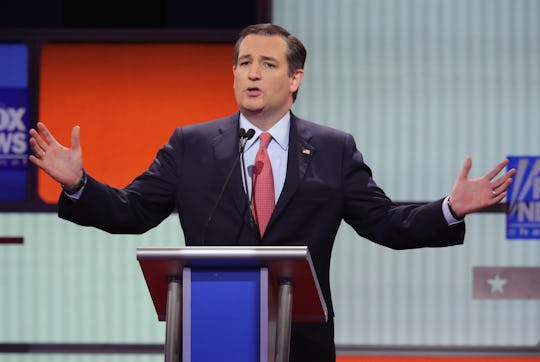 Chip Somodevilla/Getty Images News/Getty Images
Ted Cruz's Voting Record on Maternal Health Issues Is Not Surprising
As we move ahead in the republican primary election, voters will be paying a lot more attention to each candidate's platform and perspective on important issues, especially the issues that pertain to themselves. Issues such as health care, taxes, the environment and foreign policy are all topics that voters will pay close attention to and take into consideration when casting their vote on the ballot in their own election. Sen. Ted Cruz is among these republican candidates with a history of having a staunch and conservative voting record, voting in the Senate on a variety of issues. But where does Ted Cruz stand on one of the most important issues, maternal health? Let's look closer at Ted Cruz's voting record on maternal health issues where his record, for the candidate, is not surprising.
Since being elected a Senator since 2012, Cruz has sponsored 34 bills, none of which have been made into law, and cosponsored 133 bills, two of which have been made into law. Cruz has been particularly vocal about current health care policy and his plans to change it, being particularly outspoken on Obamacare and Planned Parenthood and how much he disagrees with both of the programs.
Abortion and Health Care Facilities
Cruz is a proud supporter of House Bill 2, a Texas bill that recently made its way to the Supreme Court this past Wednesday.
If passed, H.B. 2 would close all but 10 abortion clinics in the state of Texas (which is huge for a state as large as Texas) and require doctors performing abortions to have admitting privileges in local hospitals as well as set incredibly high standards for the clinics where abortions are performed.
Rather than targeting the women who have abortions, the bill targets the facilities where abortions are held and the physicians who perform them, putting women in jeopardy and making it more difficult for women to seek out abortion services.
Obamacare
Obamacare is perhaps one of the biggest issues that Cruz is passionate about as a Senator. During his time in the Senate, Cruz has sponsored four different bills to repeal and defund Obamacare. In Iowa, Cruz told voters that he would "repeal every word of Obamacare," according to the Washington Post.
Under Obamacare millions of Americans have lost their jobs. Millions of Americans have lost their doctors, have seen their premiums skyrocket. That is happening all across the country.
Since being in action, the Affordable Care Act has provided affordable health care to Americans everywhere, providing healthcare to 20 million uninsured adults as of 2016, cutting down the percentage of of uninsured people overall.
Planned Parenthood
This past September, Cruz clamored for a government shutdown over the funding of Planned Parenthood. The government voted to keep the funding, but Cruz has been staunchly against the keeping the funding.
The defunding of Planned Parenthood would threaten the access to birth control, STI testing, and cancer screenings, which is currently provided to millions of people all over the United States.
If elected president, Cruz could put millions of women's reproductive rights and access to health care in jeopardy. Take this into consideration the next time you head to the polls.