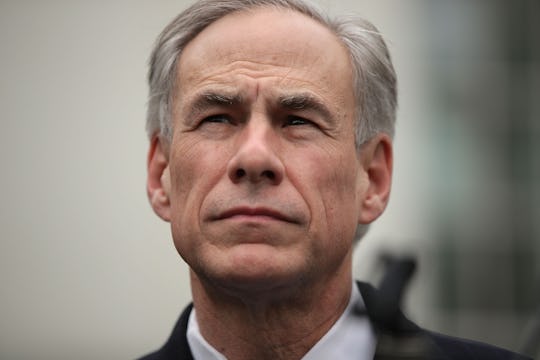 Alex Wong/Getty Images News/Getty Images
Texas' Anti-Choice Legislation Sets Dangerous Precedent
Ah, the Lone Star State. Where two-stepping is the most romantic first date, being an Aggie or a Longhorn practically defines you, and state pride takes on a whole new meaning. True, Texas has its charms, but the state is also well-known for extreme anti-abortion rhetoric and a Republican-controlled legislature. A 2016 anti-abortion Supreme Court ruling made national headlines when it was shut down, giving hope to pro-choice advocates across the state. But now, a new wave of Texas' anti-choice legislation is setting a dangerous precedent for states and harming its female citizens.
There are currently 45 proposed bills in the Texas state legislature relating to anti-abortion practices, all introduced in 2017. Clearly, lawmakers are dedicated to fighting back against the Supreme Court ruling last year, and with conservative Neil Gorsuch confirmed as the latest justice, Texas just might stand a chance if they decide to take things to a higher level. But, as it stands, Texas already has so few abortion clinics, that any further legislation on the matter would significantly harm its female citizens. This plethora of anti-choice legislation would also show other states what's possible with Trump in the White House and the GOP controlling all major branches of the government.
Perhaps the most disturbing of the proposed bills, H.J.R. No. 121 completely dismisses the notion of the separation of church and state. The joint resolution takes anti-choice sentiment to the most severe magnitude, with the introduction stating that the author of the bill is "proposing a constitutional amendment guaranteeing the right to life of unborn children and prohibiting abortion to the fullest extent possible ... to be known as the "Life at Conception provision of the Texas Constitution's Bill of Rights." And no, that's not a joke.
Of course, there are also bills that propose forcing women to bury or cremate their aborted fetuses, and demand that abortion providers jump through hoops in order to begin any procedure. But what all pieces of legislation ignore is the simple fact that a woman should have control over her own body, and that a woman who is undergoing an abortion has likely already faced intense emotional trauma or mental stress in coming to that decision itself. Adding to it only adds undue burden.
Unfortunately, with so much Republican control in both the state of Texas and federal government, it seems that many of these bills will stand a good chance of becoming law, paving the way for other states to do the same. According to a senior state issues manager at the Guttmacher Institute, Elizabeth Nash, Texas is moving dangerously fast with its new anti-choice bills:
What makes Texas unique is that the clinic system was undercut so quickly. Texas has taken what might have happened in a decade or more in another state and collapsed it into a year.
While the SCOTUS ruling of 2016 might have halted lawmakers in other states, Texans have once again proved their persistence, something that states like Kentucky, which has tried hard to shut down abortion clinics, can cling to. And as Texas lawmakers have allocated an extra $20 million in funding for anti-choice actions (taking that money away from the state Commission on Environmental Quality), it seems that they may get exactly what they want. And, in many ways, Texas' female citizens will be the ones paying the price.