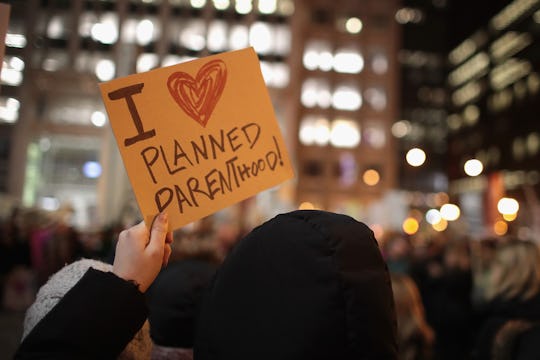 Scott Olson/Getty Images News/Getty Images
Judge: Texas Can't Defund Planned Parenthood
Not so fast, Texas. In a win for reproductive rights, a U.S. judge ruled that Texas can't defund Planned Parenthood on Tuesday. The state had planned to cut Medicaid funding for the organization, but thanks to Bush-appointed Judge Sam Sparks, that plan is now blocked by a preliminary injunction.
The funding that Texas had been planning to cut goes towards non-abortion services like cancer screenings and birth control access. According to Planned Parenthood, the cuts would have affected nearly 11,000 low-income patients across the state. Texas had been pushing to cut the funding since heavily edited videos released by an anti-abortion group purported to show officials at Planned Parenthood discussing selling fetal tissue.
In his opinion, Sparks wrote that Texas had not provided "any evidence" when it came to Planned Parenthood's wrongdoing, continuing,
A secretly recorded video, fake names, a grand jury indictment, congressional investigations — these are the building blocks of a best-selling novel rather than a case concerning the interplay of federal and state authority through the Medicaid program. Yet, rather than a villain plotting to take over the world, the subject of this case is the State of Texas's efforts to expel a group of health care providers from a social health care program for families and individuals with limited resources.
This move is definitely a welcome reprieve for the many people who rely on Planned Parenthood's services, but the organization is still in danger of being defunded. At the national level, congressional Republicans have been trying to defund the organization for years, and they have new power to do so with the Donald Trump/Mike Pence team in office. (Vice President Pence, in particular, has a long history of working against Planned Parenthood.)
Other states have introduced similar efforts to defund the organization, although those efforts have largely been blocked, whether by governors like Terry McAuliffe in Virginia, or by the courts in places like Louisiana. And while 13 states have investigated the Planned Parenthood videos, none of those investigations have led to criminal charges.
Still, that's not stopping opponents from working to take away the organization's ability to provide important care for low-income women (and men! They get cancer and HIV screenings at Planned Parenthood too!). Shortly after the ruling, Texas Attorney General Ken Paxton released a statement announcing his plans to appeal it.
So while Tuesday may have been a good day in Texas for those who believe in access to quality, affordable health care, the fight is far from over.