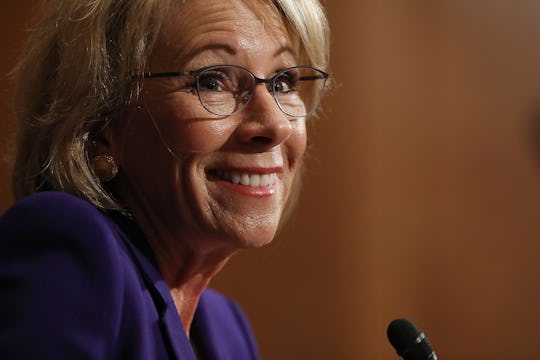 Chip Somodevilla/Getty Images News/Getty Images
Text This Number To Contact Your Senator About…
The confirmation vote for Betsy DeVos, President Trump's pick for education secretary, is scheduled for Tuesday afternoon, but unlike the remainder of nominees, there is actually a chance she could be voted down. DeVos has been a controversial choice, thanks to her lack of support of (and experience in) the public school system, along with her much-criticized performance during her confirmation hearing, where she struggled to answer some basic questions. Senate Democrats are spending the remaining 24 hours before her vote protesting DeVos in a continuous senate session, in hopes of breaking the current 50-50 vote split. Want to support their effort to #holdthefloor? Text this number to contact your senator about DeVos, and urge them to vote 'no'.
Although Democrats won't actually be able to block DeVos' nomination, they have at least been able to use these final hours to both make a pretty emphatic statement, as well as shore up as much public support as possible amongst those who want their representatives to vote against DeVos, according to The New York Times. And given the widespread backlash against her, it could actually work: according to NPR, thousands of concerned voters have already sent letters, calls and e-mails to their senators asking them to block DeVos' confirmation, and two Republican senators — Lisa Murkowski of Alaska and Susan Collins from Maine — have announced they will not support her. If all other Republicans choose to vote as planned, the vote will be even, and since Vice President Mike Pence will act as the tiebreaker, she'll be confirmed. But given that DeVos isn't even widely supported by all Republican voters, enough texts and calls from the public could still persuade another senator to switch their position at the eleventh hour.
Those opposed to DeVos have been using social media to remind Americans that they can, and should, contact their senators if they are against her nomination. It's easy enough to locate the name and number of your senator's office if you aren't sure, but there are even simpler ways: the American Federation of Teachers, for example, has a web form where you literally just have to type in your phone number to be connected (and if that doesn't work, they also have a web form to make it easy to send a letter). But if text messaging is more your thing, you can also text 'DEVOS' to 64433 to get in touch with your senator and let your voice be heard.
Through the night, Senate Democrats took turns offering floor speeches to argue their positions against DeVos' nomination, and unsurprisingly, they didn't hold back. Massachusetts Sen. Elizabeth Warren began her speech by saying that "it is difficult to imagine a worse choice to head the Department of Education [than DeVos]," and argued that DeVos' priority was ultimately her own financial gain:
Betsy DeVos doesn't believe in public schools, her only knowledge of student loans seems to come from her own financial investments connected to debt collectors who hound people struggling with student loans, and, despite being a billionaire, she wants the chance to keep making money off shady investments while she runs the Department of Education.
New Jersey Sen. Bob Menendez argued that DeVos has "only worked to undermine" the public school system, and took issue with DeVos' previously-stated positions on issues like the government's role in education, protection for students with disabilities, and whether schools should be gun-free zones. He also spoke about the public backlash against DeVos, and said,
I believe that our students, parents, teachers and educators should be able to trust the person tasked with overseeing them. And the 50,000 New Jerseyans who have reached out to me to oppose her nomination have clearly shown she has not earned that trust.
In addition, many senators took to social media to communicate their concerns about DeVos, including Connecticut Sen. Chris Murphy, who tweeted, "Public schools weren't a 'dead end' for me, my parents, my wife, or my kids," and Washington Sen. Patty Murphy, who said DeVos' agenda is "deeply at odds with parents, students, & families across the country."
If Democrats fail to sway at least one more senator away from voting in favor for DeVos, it will be the first time ever that a vice president's vote was needed to break a tie and confirm a Cabinet secretary, according The Washington Post — which in itself seems to say a lot about her unpopularity. But Pence, for one, isn't worried: on Sunday, he told Fox News that the GOP was "very confident that Betsy DeVos is going to be the next secretary of education," according to The Washington Post, and added, "it'll be my high honor to cast the deciding vote on the floor of the Senate next week."
Regardless of the outcome of the confirmation vote Tuesday, the movement against Betsy DeVos seems to be a pretty good indication that people across the country are deeply concerned about protecting public education for their children. And if DeVos does become Education Secretary, it likely won't be the last time they rally against her.