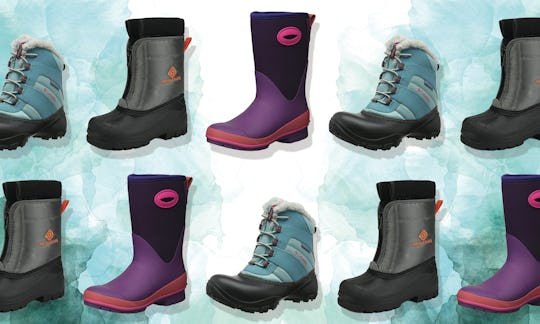 Amazon/Bustle
When The Weather Turns Frightful, These Are The Best Snow Boots To Keep Little Feet Warm
Cooler temperatures mean it's time to break out the cold weather gear for the kids. Chief on that list is a pair of boots they'll get a lot of mileage out of. Along with insulation to keep little feet warm, the best snow boots for kids are waterproof, easy to slip on and off, and have durable treads that offer great traction on slippery surfaces. Even better: They come in multiple colors and styles, so you can find a pair that your kid will be excited about wearing.
Here's what to look for while shopping:
Insulation: Insulation ratings are measured in grams, and they range from 100 grams on the lower end —which is great for mild winter conditions — all the way up to 600grams, which will keep feet warm in frigid temperatures and severe weather. Not all brands list their insulation ratings, but if they don't, these picks has been reviewer-approved for warmth.
Water-resistance: What good are snow boots if your little one's feet end up soaked in slushy ice? Keep an eye out for waterproof and water-resistant materials that are designed to thrive in inclement weather and keep feet dry.
Durable outsoles: Look for thick, textured soles that will offer good traction in snowy and icy terrain, so children can safely explore.
Ease of putting on and taking off: Mornings and afternoons can be rushed (as can a kid's desire to get out and play once the flakes start falling). Look for a pair that's relatively easy to slip on and off, so you can save on time and hassle.
And let's face it: Children grow quickly and shoes may not last more than one season, so if you're looking to be economical, you can get a pair of the best snow boots for kids at a surprisingly low price.
We only recommend products we love and that we think you will, too. We may receive a portion of sales from products purchased from this article, which was written by our Commerce team.