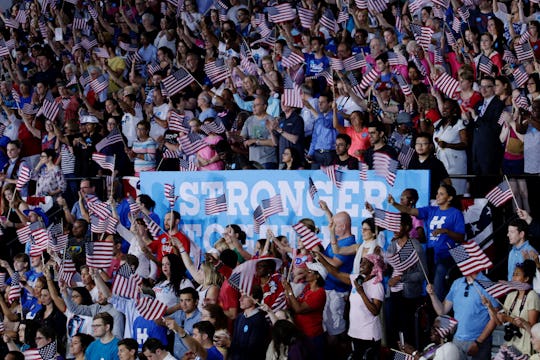 EDUARDO MUNOZ ALVAREZ/AFP/Getty Images
The 7 Most Important Quotes For Parents From The Democratic National Convention
Proud parents filled the DNC stage each night of the convention, eager to support the candidate whom they feel will adequately protect their interests as well as the interests of their children. In her final address, Democratic presidential nominee Hillary Clinton made sure to appeal to parents, mothers specifically. Her sentiments were echoed by many others who understand the significance of an election on the health and safety of their children. The following seven most important quotes from the DNC for parents show that Clinton's message embraces younger generations and will continue to fight in order to achieve their established Democratic platform.
The pride in their children and significance of this election on their children's future was deeply felt throughout all four days. First Lady Michelle Obama gave a virtually flawless speech, praising her daughters and lifting them up amidst all that she and other black women have had to face. Clinton's daughter Chelsea Clinton spoke of her mother's attentive parenting. President Barack Obama, Massachusetts Sen. Elizabeth Warren, and former U.S. Secretary of State Madeleine Albright all acknowledged the significance of current generations as well as those before them. Parent Khzir Khan spoke from the heart about what this election means to his now deceased son, who was an American, Muslim soldier.
The quotes that follow summarize the DNC's view of how parenting and politics affect one another, creating a stronger, safer world:
1. Chelsea Clinton On Her Mother's Parenting
"I never once doubted that my parents cared about my thoughts and my ideas, and I always, always knew how deeply they loved me. That feeling of being valued and loved— that's what my mom works for for every child. It is the calling of her life."
2. Michelle Obama On "All Our Sons & Daughters"
"I wake up every morning in a house that was built by slaves and I watch my daughters—two beautiful, intelligent, black young women—playing with their dogs on the White House lawn. And because of Hillary Clinton, my daughters—and all our sons and daughters—now take for granted that a woman can be President of the United States."
3. Elizabeth Warren On Our Children's Future
"The hand of history is on our shoulders. We know how to build a future, a future that works not just for some of our children, but for all of our children. We know, and we must have the courage to make it happen."
4. President Obama On Family Values
"America has changed over the years. But these values my grandparents taught me— they haven't gone anywhere. They're as strong as ever; still cherished by people of every party, every race, and every faith."
5. Madeleine Albright On Her "Skills"
"We are both mothers and grandmothers – so I know where she got her management skills."
6. Hillary Clinton On How This Helps "Everyone"
"Standing here as my mother's daughter, and my daughter's mother, I'm so happy this day has come. Happy for grandmothers and little girls and everyone in between. Happy for boys and men, too – because when any barrier falls in America, for anyone, it clears the way for everyone. When there are no ceilings, the sky's the limit."
7. Khzir Khan On Honor & Sacrifice
"This is a historic election, and I request to honor the sacrifice of my son – and on election day, take the time to get out and vote."
Whereas the DNC offered solutions, responding to the concerns of parents nationwide, last week's RNC seemed to only generate buzz about the problems. These heartfelt speeches painted Clinton as a proud parent and champion of children's healthcare: A cause she's been fighting for since the very beginning.