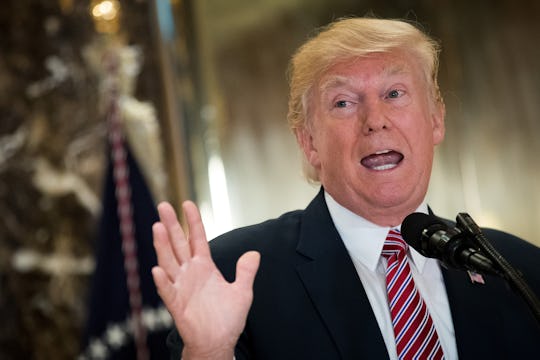 Drew Angerer/Getty Images News/Getty Images
The Best Reactions To Trump Blaming The "Alt-Left" For The Charlottesville Violence
On Tuesday, at a press conference that was meant to be about infrastructure, President Donald Trump doubled down on his original remarks regarding the violent protests in Charlottesville, Virginia over the weekend. And following his remarks, these reactions to Trump blaming the "alt-left" for the violence in Charlottesville illustrate that the president doesn't have an entirely firm grasp of who was there and what exactly happened. Or more specifically, the political parties that gathered to counter-protest the white supremacist groups at the "Unite the Right" rally.
According to Politico, Trump said:
Okay, what about the alt-left that came charging at [indiscernible] — excuse me — what about the alt-left that came charging at the, as you say, the alt right? Do they have any semblance of guilt? What about this? What about the fact that they came charging – they came charging with clubs in their hands swinging clubs? Do they have any problem? I think they do.
Here's the problem with his phrasing. The "alt-left" isn't a real term that's used to describe any group on the left. Even the term "alt-right" is questionable and can't just be thrown around without understanding it. It is often used as a catch-all phrase to describe contemporary white supremacists, neo-Nazis, the Klu Klux Klan, and other militant, far-right groups, and passed off as a new mainstream conservative sect.
But neither "alt-right" nor "alt-left" have any real meaning. They're often most used by pundits as vague generalizations. Trump's use of the term "alt-left" betrays a very serious misunderstanding of what happened on Friday night and into Saturday in Virginia. Many on Twitter, as always, were quick to point out his mistake.
Some Tried To Give Trump Historical Context
Some Weren't Really Sure What He Meant
It is very possible that Trump was implying that every single counter-protestor in Charlottesville was associated with Antifa — a far left, militant group, that allegedly came to Virginia to protest the white supremacists — without really understanding what he meant. But not everyone that showed up to counter protest was militant over the weekend, such as the victim of the Charlottesville car attack or any number of counter-protestors shocked by the display of white supremacy on Friday night and Saturday afternoon.
The president's use of "alt-left," a term that doesn't actually exist, sets up a false equivalency in which people protesting the KKK, Nazis, or any other violent far-right group are equal to groups of people and political parties that pick up torches and insist that people of color or different religions aren't welcome in the United States — or anywhere else.
As reported by multiple news outlets, Trump said in a press conference on Tuesday: "I don't put anyone on a moral plane." While violence and extremism should be acknowledged, there comes a time when leaders have to pick a side. Unfortunately, the president still seem unwilling, or simply unable, to do just that.