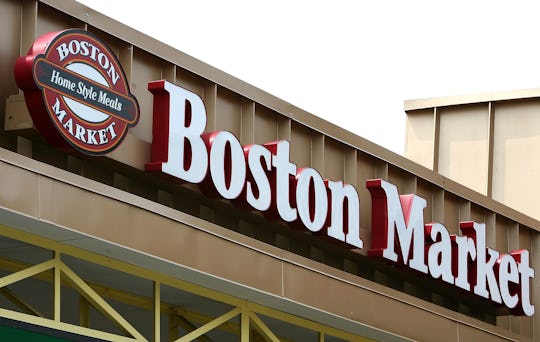 Mark Wilson/Getty Images News/Getty Images
The Boston Market Order That Could Increase Your Milk Supply
For a nursing mom, low milk supply can be a frustrating obstacle to keeping their baby nourished. But in many cases, there are natural ways to solve the problem. There are even foods you can add to your diet to help boost the amount of milk you are able to produce. So if you're looking for a reason to justify your next takeout order, you should know about the Boston Market order that could increase your milk supply.
Boston Market is best known for its rotisserie chicken. But there are a host of vegetables, starches, and, of course, desserts that you can add to your order to round out your meal. Some of these delicious menu items can be a source of the vitamins and minerals needed to produce a healthy amount of milk for your baby.
To some, the sweet potato casserole may sound more like dessert than something to eat alongside a drumstick and thigh. But underneath all of the marshmallows and brown sugar, the sweet potatoes can help give your milk supply a major boost. According to Mom Junction, sweet potatoes are a recommended part of a nursing mom's diet because they provide a source of potassium. Additionally, the vitamin rich veggie contains carbohydrates which will help give you the energy you need to nurse effectively.
Additionally, What To Expect noted that nursing moms should eat 3 to 4 servings of leafy green vegetables in their diet each day. Which is why creamed spinach should be your veggie of choice when ordering at Boston Market. As Parents mentioned, low milk supply is often associated with the mother having low levels of iron. Spinach is fortified with iron, making it one of the best options for nursing moms.
So rather than allowing yourself to feel guilty about eating out, look for menu items that can help you and your baby by boosting your milk supply. And while it may not be on the list of recommended foods, you can't leave Boston Market without having a piece of chocolate cake.