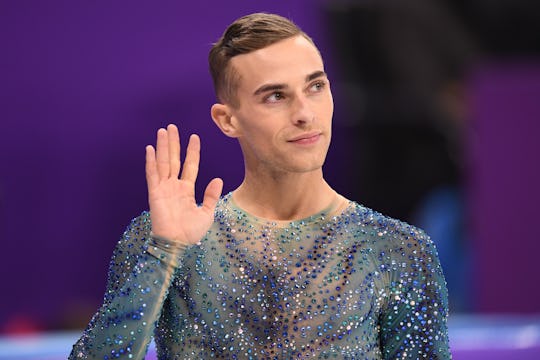 Harry How/Getty Images Sport/Getty Images
The 'Dancing With The Stars: Athletes' Cast List Is Here, & OMG, It's So Good
Professional athletes have historically done pretty well on America's favorite dance competition reality show, so it's no surprise that they'd make it official by stocking a season exclusively with sports players. Now, the Dancing With The Stars: Athletes cast list is here, and even if you've never watched ESPN in your life, I'm willing to bet you know who at least a couple of these people are. Stepping up for the 26th season are:
Adam Rippon
Arike Ogunbowale
Chris Mazder
Jamie Anderson
Jennie Finch
Johnny Damon
Josh Norman
Kareem Abdul-Jabbar
Mirai Nagasu
Tonya Harding
As usual, the show will be hosted by Tom Bergeron and Erin Andrews, and judges Len Goodman, Carrie Ann Inaba, and Bruno Tonioli are also returning. All 10 contestants and their partners appeared on Good Morning America on Friday for the big reveal ahead of the season premiere, which is scheduled for Monday, April 30 at 8 p.m. Eastern Time on ABC. Of the past 25 seasons, nine of the winners have been professional athletes, so this is sure to be some fierce competition, especially considering the fact that three of the 10 contestants are figure skaters, which is basically ballroom dancing at high speeds with knives strapped to your feet.
Just in case you're not familiar with every name on that list, though, let's go over some highlights.
Arike Ogunbowale
You might recognize Ogunbowale from her recent appearance on Ellen, where she got to meet Kobe Bryant. A junior at Notre Dame, Ogunbowale's team just won the 2018 NCAA Championship when she scored the game-winning basket with just 0.1 seconds left on the clock. She'll be dancing with Gleb Savchenko.
Chris Mazder
Mazder just became the first U.S. men's singles luge medalist ever when he scored the silver in PyeongChang, but if you're anything like the scores of women that have been sending him explicit DMs, as TMZ reported, you probably remember him as the hot one. He has a girlfriend, so get over it. He'll be dancing with Witney Carson.
Jamie Anderson
Anderson also made history in PyeongChang this year, becoming the first female snowboarder to earn two gold medals. She also appeared on Celebrity Apprentice in 2014, according to People, and she says it was "a really cool business experience" and "nice to get to know" the host. Make of that what you will. She's dancing with Artem Chigvintsev.
Jennie Finch
A retired softball pitcher, Finch won the 2001 Women's College World Series, the gold medal at the 2004 Summer Olympics, and silver at the 2008 Olympics. She's married to former Major League Baseball pitcher Casey Daigle, and according to Modern Farmer, she owns an exotic animal farm. OK! She'll be dancing with Keo Motsepe.
Johnny Damon
Damon helped the 2004 Red Sox end an 86-year drought and win the World Series before defecting to Yankees and breaking our hearts the following year. He can rot in hell. He'll be dancing with Emma Slater.
Josh Norman
Norman is a cornerback for the Washington Redskins, which my research tells me is a football position. I'm sorry; football talk is a completely foreign language to me, but Sports Illustrated called him "a phenomenal defender," which I believe means that he's a good football man. He has a very nice smile, and he'll be dancing with Sharna Burgess.
Kareem Abdul-Jabbar
Abdul-Jabbar played an incredible 20 seasons in the NBA (the average player lasts for less than a quarter of that, according Business Insider). He's a six-time MVP, a six-time champion, and a 19-time All-Star. Dr. J himself says he's the greatest player of all time. He's paired with Lindsay Arnold.
Adam Rippon
Figure skater Rippon just won a bronze medal at the Olympics this year, but more importantly, he has an interesting theory on sexuality as it relates to avocado toast, and you should definitely check it out in the video above. He's dancing with Jenna Johnson.
Mirai Nagasu
In February, Nagasu became the first U.S. woman to land a triple axel at the Olympics, earning a bronze for the team event. After her free skate in the women's individual event, she told reporters that she "thought of this as my audition for Dancing with the Stars," according to People, so I guess that worked out. Her partner is Alan Bersten.
Tonya Harding
Harding is paired with Sasha Farber, and don't even play like you don't know who she is.