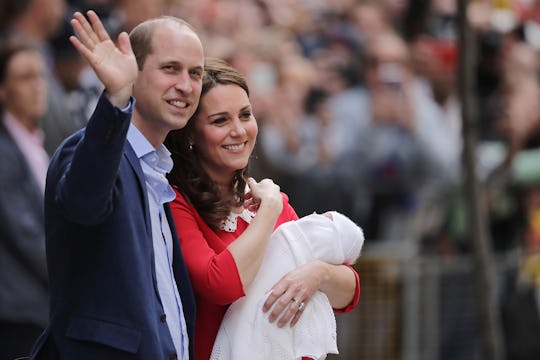 Dan Kitwood/Getty Images Entertainment/Getty Images
This Is A Picture Of A Capricorn Doing Her Job
Even though the Duchess of Cambridge had made picture-perfect, postpartum appearances twice before, her appearance on the steps of St. Mary's Hospital mere hours after the birth of the littlest prince in a smashing red dress with pumps and a blowout was met with the snare-drum of jaws dropping left and right. Commoners in tricorn hats had been camped out for weeks waiting for a glimpse of Kate Middleton post-delivery, and yet the amazement was as fresh as her foundation. But I, for one, was not shocked by the Duchess' appearance: after all, she's a Capricorn.
Those who didn't have Kate's astrological chart handy dropped a barrage of tweets and think pieces in response to the moment, with one camp asserting that the Duchess is pedaling an unrealistic beauty standard that all new moms may be held to. Others cheered the new mom of three on for pulling herself together at a dizzying rate or for once again showing the world that your postpartum baby bump doesn't just go down like that after giving birth. Still another camp hoisted their Team Kate flags, applauding her for carrying out her royal duties with grace. There are cases to be made on all sides of this debate, but considering the situation from an astrological perspective offers an interesting insight into how Kate herself may feel about looking so camera-ready in front of the whole world right after labor and delivery.
Born on January 9, 1982, the Duchess of Cambridge's sun sign is Capricorn, a pragmatic earth sign, which is ruled by the 10th house of Career. This means that, usually, first and foremost, Capricorns are known for taking their career track very seriously. In fact, of all the zodiac signs, they're the most likely to be workaholics, because they're just that zeroed in on achieving professional goals.
Capricorns enjoy being recognized for their hard work,, but wanting to achieve has more to do with a feeling of fulfilling their duties. After all, their ruling planet (which is like the mascot of their sign) is Saturn. In astrology, Saturn is all about facing challenges that can lead to growth. These challenges often involve boundaries, limitations, and — yep! — responsibilities. The taskmaster planet is also associated with a reverence for tradition.
So, say what you will about potentially antiquated traditions (official witnesses reporting the birth and gun salutes to ring it in) that the British monarchy continues to uphold following the birth of an heir to the throne, the Windsors are nothing if not talented at pulling off anachronisms. And one of those traditions (some modernized over the years, others not so much) is making a first appearance on the steps of St. Mary's; a task that for better or for worse, comprises a royal duty and is tied to Kate's commitments as Prince William's wife.
As the world noted on the birth certificate of Prince George, Kate Middleton's official job title is "princess." And it's a job she takes seriously.
So, while she may not adore all the immediate postpartum pomp and circumstance, or having to stand in front of the public and paparazzi looking stunning but potentially feeling like hell, Kate's also a Capricorn who likely has a special place in her heart for responsibilities rooted in tradition. It wouldn't be surprising to think that, at this point, having given birth to three heirs, she has embraced it and even takes pride in her ability to step up to the plate (or, you know, down those Lindo Wing steps in heels).
The Duchess has demonstrated her commitment to her royal role, working to roughly eight months pregnant before going on maternity leave this time around, per Express. And while she is expected to take six months of leave, she will be making public appearances at Prince Harry's wedding to Meghan Markle in May, as well as Trooping the Colour in June, according to Town & Country.
So for those wagging their tongues about the message behind the Duchess' postpartum appearance, by all means, hate on the institution. But consider the fact that this is also a mom who is very much in control of her limits, boundaries, and responsibilities. And it's that strong sense of self, focus, and eye toward fulfilling her commitments that has no doubt helped her not only meet but surpass the expectations set for her as a royal. For that, she deserves nothing less than a standing ovation.
Check out Romper's new video series, Bearing The Motherload, where disagreeing parents from different sides of an issue sit down with a mediator and talk about how to support (and not judge) each other's parenting perspectives. New episodes air Mondays on Facebook.