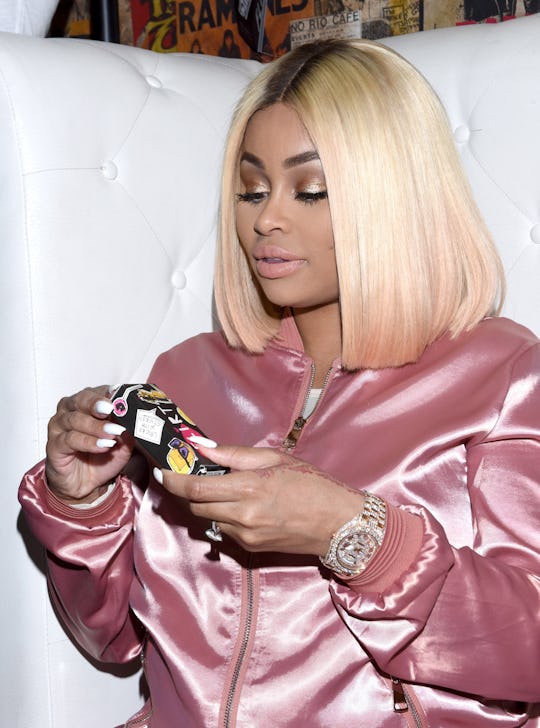 Vivien Killilea/Getty Images Entertainment/Getty Images
The First Photo Of Blac Chyna's Baby Dream Is Here & It's Too Precious
After months of baby bump-watching, a new little Kardashian has finally arrived. Rob Kardashian and his fiancee Blac Chyna welcomed a baby girl named Dream on Thursday at Cedars Sinai Hospital in Los Angeles. Both baby and mother are doing well; in fact, there is already a picture of Blac Chyna's baby Dream online and she is too sweet.
Blac Chyna, who is currently starring in a reality show about her life on E! (Rob & Chyna), arrived at the hospital around 6:40 a.m. with a smiling, excited dad beside her. Her mother, Tokyo Toni, arrived not long after to help her daughter through labor and delivery. Little Dream Kardashian was born at 9:18 a.m. and weighed in at a healthy seven pounds five ounces. While Blac Chyna has been down this road before (her son with Tyga, King Cairo, is four-years-old), this is the first baby for Rob and he is reportedly over the moon. At the couple's co-ed baby shower last month, a source told E! News:
He was so happy, very very excited about being a dad.
Lucky little Dream must have a massive entourage of expectant Kardashians ready to spoil her. And when you're getting spoiled by the Kardashians... well, that's a whole different kind of spoiled.
Dream Renee Kardashian is the sixth grandchild for Kris Jenner, and she told E! News that she was in the room for the delivery:
I got to watch [the] delivery. It was so beautiful and I'm so excited and happy to have another grandchild! No. 6! It was one of the most precious moment of my life.
Kourtney Kardashian, the first-born of the famous Kardashian clan, has three children with Scott Disick; sons Mason and Reign and daughter Penelope. Also Kim Kardashian-West, who you might have heard of, has two children with husband Kanye West, daughter North and son Saint.
And how does the rest of the Kardashian family, stars of the wildly popular Keeping Up With The Kardashians, feel about their newest edition?
Well, two of the sisters have clearly already been to visit and have fallen in love with the little Dream.
If you're worried that you're not going to get any up close and personal time with Dream and her parents fear not; not long after the baby's picture was released, E! announced that the reality series Rob & Chyna would feature the delivery on an upcoming episode. So we all have that to look forward to. Can't wait!