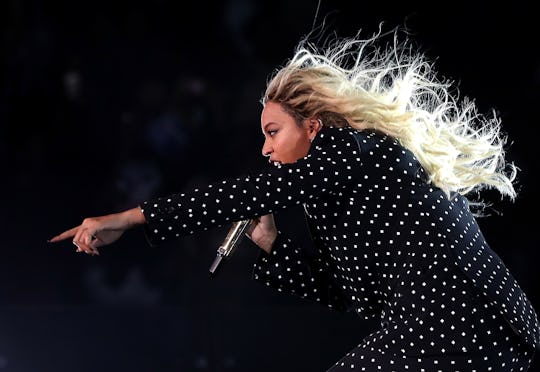 Justin Sullivan/Getty Images News/Getty Images
The Funniest Tweets About Beyonce's Pregnancy
Now it's time for some real good news: Beyoncé is having twins. And with that news come some of the funniest tweets about Beyoncé's pregnancy. Not because people are mean, but because the world could all use a smile right now.
Early Wednesday afternoon, Beyoncé posted a pregnancy announcement on Instagram, and it has garnered more than 2.7 million likes in the meantime (and still counting). As could be expected, the news of Beyoncé's pregnancy caused an instant flood of responses on all social media. Seriously, you may have a difficult time reading about anything else for the rest of the day.
Twitter is no exception. At the time of this writing, Beyoncé's pregnancy is bigger news than other, ahem, more political posts, at least according to Twitter moments. The Beyhive is speaks as one, and as of today, that voice is screaming a resounding "congrats" to the mom-to-be. Even more low-key fans of the singer have fired off some explosively congratulatory tweets. Seriously, it feels like the entire world had to pause a moment and wish Beyoncé a happy pregnancy.
What's more, many of the posts are heartfelt and sweet, and others are pretty hilarious. Some Twitter users want to babysit her twins. Others would like to be one of the twins. But overall, even the humorous responses have been massively positive, kind, and upbeat. Leave it up the Queen Bey to give a little levity to the beginnings of 2017. In the meantime, enjoy some secondhand excitement and hilarity courtesy of Twitter.
OK, so maybe asking twins — who are still in utero no less — to save the entire world is a bit of a reach. Grandiose tweets aside, it's nice to see a pregnancy so publicly celebrated. It's said that in the 1950s you couldn't even say the word "pregnant" on TV. But in 2017, celebrity pregnancy is not only permitted, it's considered borderline phenomenal. There's something nice about regarding a pregnancy announcement so highly.
Whether you regard Beyoncé's birth announcement as some sort of personal victory, or you just like the idea of focusing on babies for a moment, the queen's latest message is sure to blow up all of your news feeds for the rest of the day. Oh, and there are certainly more pregnancy photos — and eventually baby pics — on the horizon. 2017 just got a little more exciting (well, at least for the growing Carter family).