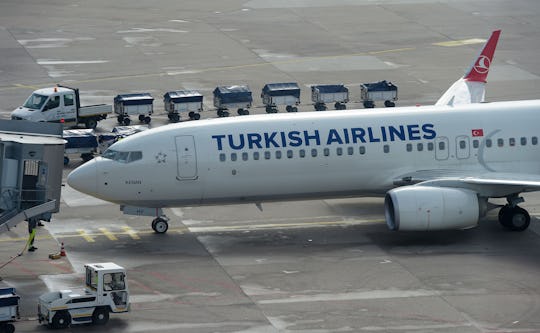 TOBIAS SCHWARZ/AFP/Getty Images
The Istanbul Airport Death Toll Could Still Rise As Officials Respond
Dual explosions at the Istanbul Ataturk airport in Turkey on Tuesday have resulted in multiple injuries, but the Istanbul airport death toll could still rise as officials and first responders make their way onto the scene. According to Reuters, there were multiple blasts and witnesses also reported hearing gunshots on the scene. Initial reports put the death toll at 10, but that number could rise, given the scale of the incident. Within the hour on social media, images were circulating of bodies both inside and outside of the main terminal at the airport.
Update, 7:17 p.m. ET: Istanbul's governor says at least 31 people were killed in the Istanbul Ataturk airport attack, and at least 60 were wounded, according to the Associated Press. Authorities believe there were three suicide bombers.
According to eyewitness reports from CNNTurk, taxis lined up at the terminal were transporting the wounded to area hospitals. The Guardian reported that there were allegedly multiple attackers with bombs, both outside of the main international terminal.
Tuesday's attack is just the latest in a string of terrorist attacks in the country by ISIS and Kurdish militants, according to CNN. Turkey allows U.S.-led coalition planes to fly over the country to carry out raids on ISIS controlled areas in Syria and Iraq, and as such, is a target for attacks like Tuesday's.
Officials have yet to confirm who was responsible for Tuesday's attack. In early June, a car bomb attack that killed a dozen people was claimed by a Kurdish military group. The car bomb went off, apparently targeting a police vehicle, in the Vezneciler district, which is close to a university and major tourist attractions, according to The Guardian. Several police officers were killed in that attack and many of the wounded are still in critical condition.
After the June 7 attack, an eye-witness told The Guardian,
It was massive. I also heard the sounds of gunshots right afterwards. When I went out to look it was an awful scene. People were sprawled on the ground, many had lost limbs, there was blood everywhere.
Like the Vezneciler attack, the Turkish airport on Tuesday seems to have been an obvious target. On Monday, the U.S. State Department issued a warning for travelers saying that they should "exercise heightened vigilance and caution when visiting public access areas, especially those heavily frequented by tourists" in Turkey.