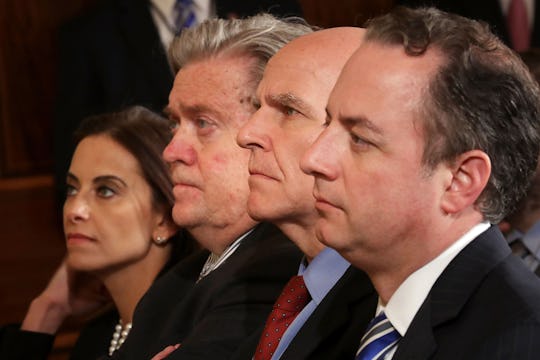 Chip Somodevilla/Getty Images News/Getty Images
List Of Everyone Who Has Left Trump's White House Is Growing
It has only been seven months since Donald Trump took office as president, but god does it feel like a lifetime. Since the reluctant beginning, Trump's presidency has been shrouded in chaos and that can not be demonstrated better than in his cabinet and administration. Each week, it feels like a new person is stepping down from their position. Since Trump has taken office, many people have left, stepped down, or been fired from their roles and on Friday, two more people were added to the ever growing list. Seriously, the list of everyone who has left Trump's White House is kind of unbelievable.
Chief Strategist Steve Bannon became the newest member of the "former Trump White House staffer support group" on Friday when he left the White House in what was described as a "mutual" decision by White House Press Secretary Sarah Huckabee Sanders. Bannon's decision to leave the White House didn't come as a surprise to some (he had been reportedly on his way out, according to Newsweek).
But this doesn't reflect well on the Trump administration. If so many people have left or been fired this far along into Trump's first year in the White House, then how will the next three years be?
The following list of people who have left or been fired from the White House is pretty darn sobering.
Sally Yates
In one of Trump's first moves as president, he put an "immigration ban" in place this past January, barring people from seven-Muslim majority countries from entering the United States. Yates, the acting attorney general at the time (who was hired by President Barack Obama), questioned the constitutionality of the ban and refused to defend it — in turn, Trump fired her. Sean Spicer, the press secretary at the time, said that Yates "betrayed the Department of Justice by refusing to enforce a legal order designed to protect the citizens of the United States."
Michael Flynn
National Security Adviser Michael Flynn left the White House in February after resigning due to "misleading White House officials" about the conversations he had with Russia. After Flynn left the White House, it was revealed that Flynn was under investigation for secretly working as a Turkish lobbyist, according to Cosmpolitan, weeks before the inauguration.
James Comey
The former FBI director was "abruptly" fired in early May while the FBI was investigating into whether or not Russia interfered with the presidential election. Comey learned of the firing like everyone else — from a televised news broadcast, according to CNN. "It is essential that we find new leadership for the FBI that restores public trust and confidence in its vital law enforcement mission," Trump wrote to Comey in a letter.
Michael Dubke
Trump's first communication's director, Michael Dubke, resigned from his White House position in May with little to no reasoning (press secretary Sean Spicer took his place after he left). "The reasons for my departure are personal, but it has been my great honor to serve President Trump and this administration," Dubke said in a statement, according to Politico.
Walter Shaub
Shaub, the head of the Office of Government Ethics (who was appointed by Obama), resigned six months before the end of his term, on not so great terms. Shaub was a vocal critic of the president, according to The Guardian, often clashing with the White House. Shaub said in a statement after resigning, according to The Guardian, "In working with the current administration, it has become clear to me that we need improvements to the existing ethics program."
Sean Spicer
The press secretary and communication director resigned from his position in late July after Anthony Scaramucci was hired as the new communications director (and pushed Spicer out of the position). Spicer certainly didn't have the easiest tenure at the White House (his Saturday Night Live parodies were legendary), he was certainly one of the more known characters from Trump's administration. Trump had some choice words for Spicer saying in a statement, according to CNN:
I am grateful for Sean's work on behalf of my administration and the American people. I wish him continued success as he moves on to pursue new opportunities — just look at his great television ratings.
Reince Priebus
Priebus, Trump's Chief of Staff, resigned from his position one week after Spicer. Priebus was reportedly pushed out, according to Business Insider, due to Trump being convinced "he was not strong enough for the role." It was announced that General John Kelly would replace Priebus the same day that Priebus resigned.
Anthony Scaramucci
In perhaps the shortest tenure of White House employees yet, White House Communications Director Anthony Scaramucci resigned from his position just after 10 days of being hired — and shortly after John Kelly took over Priebus' role as chief of staff. "Mr. Scaramucci felt it was best to give chief of staff John Kelly a clean slate and the ability to build his own team," Sanders said.
Steve Bannon
As previously stated, Bannon was reportedly fired from his role as chief strategist in a move that CNN said "had been in the works for weeks." Bannon's resignation came on the heels of an interview with the American Prospect, according to CNN, contradicting Trump on his views of North Korea. "We are grateful for his service and we wish him the best," Sanders said of Bannon's departure.
Carl Icahan
And shortly after Bannon left the White House on Friday, Icahan followed, stepping down from his role with the president's "blessing". Icahn served as a special adviser to the president on regulatory reform, according to CNNMoney, even though his role was "informal." Icahn announced his resignation from the role in a letter to the president on his website, writing to Trump, "...I did not want partisan bickering about my role in any way to cloud your administration."
There is no telling just how long this list will grow to once the year is over.