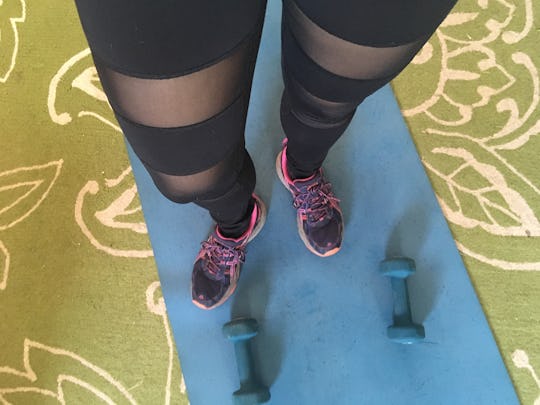 Courtesy of Sarah Bregel
All Hail These Magic Mesh Workout Pants
I'm the kind of person who would rather wear exercise clothes than regular clothes. In fact, exercise clothes essentially are my regular clothes. If I put them on first thing in the morning, I find I'm way more likely to workout, plus as a stay-at-home parent, clothes I can sweat in are key. So a few weeks ago, when I was gifted some new workout gear, I was thrilled with the swag. I got some flower-patterned capris just right for spring, a new sports bra, and a pair of full-length black workout pants.
The leggings were as soft and stretchy as any stretchy pants-lover could ever hope for. Upon further inspection, however, I realized they had sheer mesh inserts, a trend that I've been seeing on leggings everywhere this spring. At first, I vowed I would never wear them. But little did I know that the mesh-paneled leggings not only would improve my confidence in my own body, they'd seriously up my workout game.
When I first saw the leggings from 90 Degrees by Reflex, I'm pretty sure I laughed out loud. Although I'd seen them everywhere in magazines and online, I hadn't actually seen anyone wearing them, and the whole concept of mesh-paneled leggings just seemed odd.
"Why do these exist? Am I supposed to look sexy during my workouts now?," I wondered. "Can't women do anything without having to look good doing it?"
As a feminist, the concept of sexy workout gear just irked me. After all, I go to the gym to break a sweat, get in shape, and get a mental break from my kids, not to pick up dudes or have people admire my super shiny legs. Still, they were brand-new, perfectly nice pants, and I didn't want them to go to waste. So I tossed them in a drawer and made a mental list of people I could pawn them off on.
One morning, however, I skipped doing laundry and found that I had run out of clean stretchy pants. It was between the sheer leggings and jeans that make my kids say, "Why are you so fancy?" I wasn't going far, so I opted for comfort and put on the new mesh-paneled leggings. I instantly noticed how the soft waist tucked in my wobbly bits and how the fabric subtly sculpted my butt. I was feeling pretty good, and even had a little pep in my step.
"What? Do they look super weird? Should I take them off?" I asked self-consciously.
My bubble was quickly burst, however, when my husband saw me on the stairs. He let out a chuckle, then quickly covered his mouth.
"What? Do they look super weird? Should I take them off?" I asked self-consciously.
"I mean, what exactly is the purpose of those?" he wondered out-loud. I admitted I wasn't exactly sure. But damn, were they comfy and perfectly molded to my a**.
Later, I walked down the street to my neighbor's house so our kids could play while we had coffee.
"You'll have to be honest with me about these pants," I said.
"Hmm..." she said, mulling it over. "Maybe you should just keep them for going out?"
I decided she was right. Sheer fitness clothing was not my thing. That afternoon, before my evening trip to the gym, I changed into a less showy pair of trusty workout pants that had been worn a thousand times and had holes in the crotch.
As I plugged my earbuds into the treadmill and found the home-makeover show channel, so I could fantasize about dream houses while plodding at a slow-to-medium pace, I glanced up. An uber fit 20-something woman was doing weighted lunges across the gym floor. And she was rocking my sheer workout pants! I almost tripped over my running shoes as I watched her sculpted shoulders press dumbbells over her head, which were almost certainly way more than I could lift. I realized that she didn't look ridiculous at all. She looked fierce as hell.
Instead of feeling embarrassed by my peek-a-boo thighs, I embraced them.
It occurred to me that perhaps motivation, in the form of sheer leggings that took me slightly out of my comfort zone, was not such a terrible thing. I decided to actually give them a try. The next day, I wore my new pants to the gym and felt myself actively step up my game. Instead of feeling embarrassed by my peek-a-boo thighs, I embraced them. My legs might not be rock solid, but they're pretty strong, I thought to myself. Why couldn't I show them off a tiny bit?
As I worked out, I imagined my legs growing more sculpted. I jogged longer and harder, then did squats and lifted weights instead of immediately running to pick up my kids. When we left the gym, I strutted out the door, feeling powerful and strong. It could just be my imagination, but I already feel like I've toned up a bit.
The sheer leggings are now my go-to and I'm not afraid to own them in all their power. Perhaps the magic pants are fooling me. But even if they are, I'm basically content to let them.