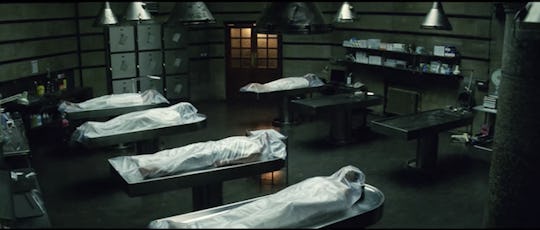 screenshot/Universal Pictures
'The Mummy' Trailer Is Here, & It's Will Scare You Way More Than The Original
Universal Pictures just released the first trailer for The Mummy, and it's creepy as all hell. Unlike the well-known 1999 film, there's no light-hearted funny bone to this mummy movie (at least it seems that way from the trailer). The teaser is a straight shot of horror, with an additional twist: the villain in this upcoming remake is a woman. It looks like director, Alex Kurtzman, broke mummy girlfriend, Anck Su Namun, out of her sarcophagus to take over the big screen solo, and simply changed her name to Ahmanet (Sofia Boutella). Despite these breaks from Stephen Sommers' remake, the film keeps it's action-oriented feel. With Tom Cruise as the film's lead, how can it not be?
The action scenes in the trailer pose some superhuman questions. In the trailer, it looks like Cruise dies in a plane crash. He later wakes up gasping for air in a body bag, supposedly surviving the crash. How could he survive, though? Is Cruise a monster himself? Or was it all a dream since the suffocating conditions he finds himself in mirror that of a person in a sarcophagus? Ah, my head hurts, but chances are Cruise is some type of invulnerable being himself.
We can draw this freakish conclusion given that The Mummy will pave the way for future monster movies. Cinemablend reports that Universal is weaving it's monster universe from the classics. Correspondingly, Kurtzman has been announced to executive produce The Invisible Man (2018), and Russell Crowe will be assuming a type of Dr. Jekyll role in The Mummy. Variety writes:
"Universal's hope is that Crowe's small role in "The Mummy" would lead to a possible stand-alone pic for the character, giving Crowe and the studio a new franchise for its monster universe."
Kurtzman produced The Amazing Spiderman 2, and only time will tell if revamped versions of old-school monsters will share the same success story as the Marvel superheroes.
For now, all we know is that the filmic future looks spooky. I mean, being that The Mummy has similar sound effects to The Ring, you already know your nightmares will soon be international. And when asked how The Mummy remake differs from Brendan Fraser's 1999 to 2008 trilogy, at a press junket at the Beverly Hilton, Russell Crowe said, "This one is kind of more designed to seriously scare the s— out of you." Watch the trailer above to get your blood pumping.
The Mummy will come for us June 9, 2017.