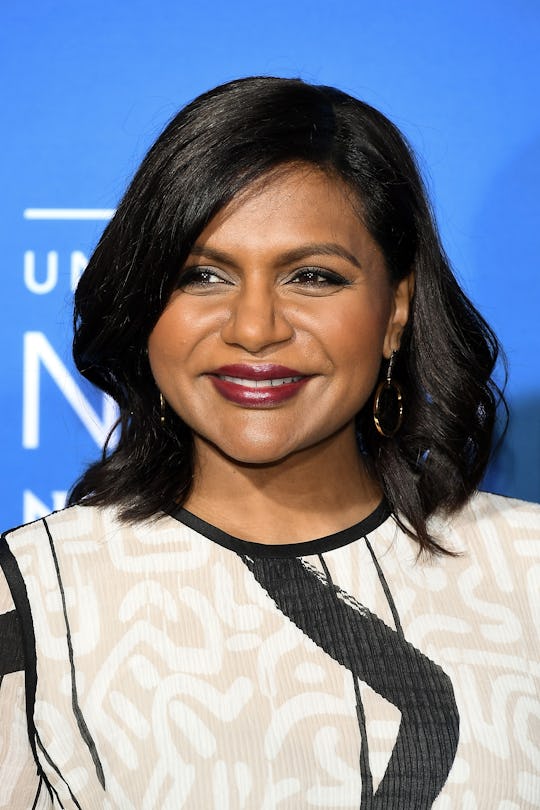 Dia Dipasupil/Getty Images Entertainment/Getty Images
These 'Office' Jokes About Mindy Kaling's Pregnancy Are Amazing
Just as news about Beyoncé's twins has started to wind down, there's now yet another beloved celebrity who will soon be expecting a little bundle of joy. Mindy Kaling is reportedly pregnant with her very first child, so naturally, her many fans are anxious to celebrate this exciting news. And what better way to do that than to start making The Office jokes about Mindy Kaling's pregnancy, which are sure to warm your Dunder Mifflin-loving heart. Romper has reached out to Kaling's rep for a comment, but has yet to hear back.
Kaling's popularity skyrocketed to massive heights thanks to her portrayal as Kelly Kapoor on The Office when it first debuted way back in 2005. So it makes sense that fans would turn to this beloved character when word of her pregnancy started to spread. An insider reportedly told E! News that this comes as an "unexpected surprise" for Kaling, however, it will allegedly not have any major impact on her various upcoming projects — some of which includes A Wrinkle in Time, Ocean's Eight, as well as the sixth and final season of The Mindy Project.
Very little else is known right now, regarding her due date or any possible names for her baby (how does Michael Scott sound?), but, of course, that hasn't stopped Twitter from making the most out of this information and doling out jokes that only fans of The Office can appreciate.
From Kelly Kapoor references to suggestions that Ryan (I mean, B.J. Novak) could be the potential father, these tweets certainly didn't disappoint and are guaranteed to leave you smiling and satisfied. (That's what she said.)
Did I mention that people really, really want Novak to be the father? Just really feel like I can't stress that point enough.
In the past, Kaling has expressed an interest in becoming a parent, so it's amazing to this come to fruition for her. Back in September 2015, she told Yahoo! Style in an interview that "I think I've decided that unlike everything else in my life, I'm going to be fast and loose about kids." She also went on to say: "I'm going to not actively plan, but if it happens, it would happen." As for who she wanted to have a kid with, she seemed pretty open about who the father could be. "I'm not cavalier about who I would have a kid with. But the thing I ask every parent that I really admire, the one comment they all have is that they wish they had kids earlier," she stated in the same interview.
Of course, it doesn't actually matter who the baby's father is. That information belongs to Kaling and Kaling alone. (It is her life, after all and no business of ours.) However, I can't deny that The Office fan in me did get a kick out of all these comical tweets. Kelly Kapoor would be proud.