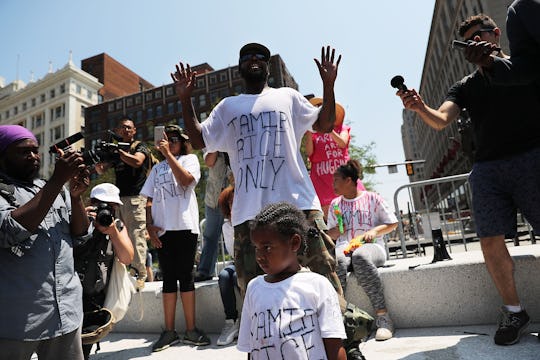 Spencer Platt/Getty Images News/Getty Images
The Officer Who Shot Tamir Rice Has Been Fired
Cleveland police officer Timothy Loehmann may not have had to face criminal charges, but on Tuesday, Cleveland Director of Public Safety Michael McGrath announced that the officer who shot Tamir Rice has been fired following an internal affairs investigation that found him "guilty of violating rules when he applied to be a cadet," according to CNN. Loehmann fatally shot 12-year-old rice in Nov. 2014, after responding to a 911 call from someone who said there was "a guy with a pistol." In Dec. 2015, Cleveland prosecutor Tim McGinty confirmed the Grand Jury decided against indicting Loehmann and his fellow officer Frank Garmback for their roles in the shooting, and called the incident "a perfect storm of human error, mistakes and miscommunications," according to The New York Times.
In addition to Lohemann's termination — which is subject to appeal by the police union, according to BuzzFeed senior reporter Mike Hayes — Garmback, who was driving the patrol car, will be suspended for 10 days starting Wednesday. He will also be required to attend additional tactical training, after the investigation found him in violation of rules "relating to tactics deployed that day," according to CNN. In January, Garmback received a disciplinary letter for allegedly "driving Loehmann too close" to Rice during the 2014 incident, according to Cleveland.com.
According to The New York Times, Rice had been "playing with a toy pellet gun" near a Cleveland recreation center when someone called 911. The caller noted that Rice appeared to be a child and that the gun was "probably fake," but Leohmann and Garmback were only told by the dispatcher that they were responding to a call about "a male with a weapon."
In April, Subodh Chandra, a lawyer for the Rice family, released video footage of Loehmann's interview with police following the incident. According to NBC News, Loehmann told investigators that he repeatedly told Rice, "Put your hands in the air! Let me see your hands! Freeze!," and said that he "presented" his weapon and shouted the commands "through a 'closed' car window." But Chandra claimed that surveillance video of the incident showed that Loehmann shot Rice "mere seconds after the officers' arrival," and that there were "inconsistencies among the officers' video-recorded statements" and their written statements to the grand jury, specifically in regards to whether or not Loehmann had opened the door of his car.
Loehmann, who was an officer-in-training at the time of the shooting, said in the video interview that he thought the gun Rice was holding was real and that the "threat just became incredible." Loehmann said,
I had to make the decision fast because Frank and I were in immediate danger We were easy targets. Plus, I was stuck in the doorway, and my partner was still seated in the driver's seat, so we were basically sitting ducks.
While many were left outraged following the grand jury decision that Loehmann should not be held criminally responsible for Rice's death, his termination itself actually stemmed not from the Rice shooting, but from an allegation that he had lied on his job application to the Cleveland Police Department. According to The New York Times, Loehmann received a disciplinary letter in January for reportedly failing to disclose that he would have been fired from his previous role at Independence Police Department in Ohio, had they not given him the option to resign. Records also allegedly showed that Loehmann failed to secure his weapon, that he was "insubordinate and untruthful to a superior officer," and that it was determined that Loehmann had "an inability to emotionally function," and that "he could not follow simple directions."
In April 2016, the family of Tamir Rice settled a lawsuit against the City of Cleveland, and received a $6 million payout to Rice's estate. But Cleveland was not the only city required to pay families following police shooting deaths in recent years: according to The Washington Post, in 2015, the family of Eric Garner received a $5.9 settlement from the City of New York, the family of Freddie Gray received at $6.4 million settlement from the City of Baltimore , and the family of Walter Scott received a $6.5 million payout from North Charleston.