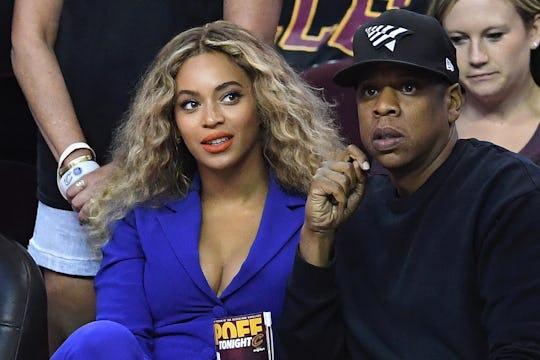 Jason Miller/Getty Images Sport/Getty Images
This Beyonce Twins Rumor Will Interest Parents
It goes without saying that there have been a lot of rumors about Beyoncé and JAY-Z's newborn twins. Starting from the exact moment Beyoncé announced she was pregnant, the Beyhive has been on a wild rollercoaster of speculation, and at times it can feel like there's no end in sight. Although you might be tired of the gossip, this new Beyoncé twins rumor is one your kids will majorly benefit from.
According to E! Online, Beyoncé and JAY-Z filed paperwork on June 26 to trademark two names, which news sources took to be the twins' names. Although Beyoncé and JAY-Z have yet to release an official statement confirming the babies' monikers, on June 30 TMZ reported their names to be Rumi and Sir Carter. Romper reached out to Beyoncé's publicist for comment regarding the trademark documents, but have yet to hear back.
If you're wondering what Beyonce and JAY-Z trademarking their infants' names has to do with you and your kids, I have good news.
Per the trademark documents, Beyoncé and JAY-Z plan to use the twins' names to market merchandise like "baby teething rings, baby carriages, and strollers," according to E! Online. In addition, Beyoncé and JAY-Z supposedly plan to use Rumi and Sir's famous names for "fragrances, cosmetics, key chains, mugs, water bottles, hair ribbons, playing cards," among other items, according to TMZ.
Translation: Rumi and Sir bling could be on its way.
As for the validity of the trademark documents, the paperwork was filed by BGK Trademark Holdings, the same company Beyoncé and JAY-Z used in their attempt to trademark "Blue Ivy" in 2012, according to The Guardian. Considering Beyoncé and JAY-Z tried to trademark Blue's name, it's not a stretch to think they'd do the same for Rumi and Sir. For the Beyoncé fans that are also parents, this is an excellent sign that the trademark rumor is true.
For those of you that are still skeptical about this rumor, it's actually common practice for celebrities to trademark the names of their children. According to The Mirror, Victoria Beckham trademarked Harper Beckham's name for merchandising purposes back in April. By trademarking Harper's name, Beckham and her husband David Beckham can collect royalties whenever their daughter's name is used to market products like "toys, make-up, books and clothes," according to The Independent. Beckham also secured exclusive rights to use Harper's name in music, television, and film.
It's also important to note, however, that if a celebrity trademarks their kid's name, it doesn't necessarily mean merchandise will follow. More often than not, a trademark is filed to protect a famous child from having their name exploited for profit by a third party. According to Gerben Law Firm, it's not not uncommon to see "copycats trying to trade off the recognition" of a famous child's name.
If Beyoncé and JAY-Z do decide to use Rumi and Sir's name for baby swag, it will be incredible for a lot of parents. On the other hand, if Beyoncé and JAY-Z are only trademarking the twins' names for safety, then that's perfectly fine too.