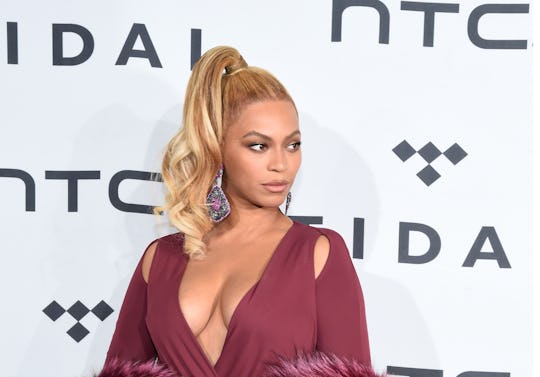 Ilya S. Savenok/Getty Images Entertainment/Getty Images
The One Thing No One Should Be Saying About Beyonce Right Now
With the American health care system crumbling before our eyes and a president who thinks a legitimate investigation into election collusion is basically a joke, it's nice to find some solace in some otherwise less stressful news. Like Beyoncé: Forget presidents, I'm all about the Queen right now. She is basking in the glow of her recently-birthed twins who made their otherwise divine entrance into the realm of us mere mortals in June. But even Beyoncé can't escape the negativity that seems to pervade the universe at the moment, especially because of this one thing no one people are saying about her right now.
People Magazine recently spoke to an unnamed inside source who could shed some light on life in the Carter household with new twins Rumi and Sir. "Beyoncé is happy with just being a mom right now," said the source. "She has no plans to work." First of all: I'm happy Beyoncé's happy, because everyone deserves happiness. Parenting newborns is hella hard, and as the mom of a singleton, I can't imagine parenting two newborns at the same time — so mad props for happiness.
But hang on a sec — why should we care if Beyoncé's working or not right now? Because if we're being honest here, it's none of our business and assumptions about Beyoncé working following the twins' birth are seriously problematic.
Following the news that Queen Bey gave birth to her twins, the internet was happy to oblige an admittedly awesome rumor that Beyoncé was working on a new album already and that her new album would be about the twins. But let's back up the hype train for a minute: It shouldn't matter if Beyoncé is working because she literally gave birth six weeks ago.
As one half of the music industry's wealthiest couples, Beyoncé has the rare luxury of being able to take more time off post-delivery than most moms in America. And besides: Even if Bey was slayin' it at an office job, she still wouldn't be expected back to work yet — the Family Medical Leave Act entitles parents to 12 weeks of unpaid family leave, and Beyoncé has just barely hit that halfway mark. And I'm sorry, returning to work two weeks after giving birth does not make you better than Beyoncé — or anyone, for that matter. The point is: No one should expect any new mother back to work so soon after giving birth.
Which brings me to point number two — a remark by the unnamed insider to People on domestic bliss at the Carter homestead:
She has doctors that come to the house weekly and they have several baby nurses that help out. She often has friends over for lunch and they have also had a couple of smaller dinner parties on the weekends.
Beyoncé's twins were born premature, so it only makes sense that she has doctors and nurses on hand to help out. Beyoncé's twins were in the NICU for about four weeks before finally leaving the hospital, according to reports at the time.
But it's that whole "friends over for lunch" and "dinner parties on the weekends" bit that has me casting some side eye. Good for Beyoncé if she can manage to entertain others while parenting her twins. I just remember things like "putting on pants" and "trying not to cry" were my greatest accomplishments at six weeks postpartum, much less inviting people over to come and see me in my constant state of being overwhelmed, so — good on ya, Bey.
But the fact of the matter is this: No one should be expecting Beyoncé to entertain guests or rock her music goddess vibe and start cranking out new tracks. Here's exactly what Beyoncé should be doing at six weeks postpartum: Whatever the hell she wants.