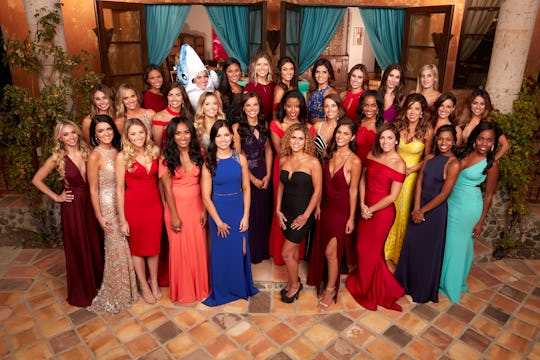 Courtesy of ABC
We Still Need To Talk About 'Bachelor In Paradise,' Alcohol, & Consent
Last week, news broke that the fourth season of ABC's Bachelor in Paradise had suspended filming following allegations of sexual assault. Initial reports from TMZ claimed that contestants DeMario Jackson and Corinne Olympios had engaged in sexual activity and that Olympios might have been too drunk to consent. Statements from ABC, Warner Bros., and Bachelor host Chris Harrison all confirmed that an internal investigation of Bachelor in Paradise would be taking place. Both Olympios and Jackson released statements of their own: Olympios told TMZ she was a "victim" of sexual assault and was trying to piece together the details of the incident, while Jackson's lawyer told Variety that the sexual assault allegations had caused his client "a lot of trauma." (Romper has reached out to Olympios and Jackson and will update if we hear back.)
Now, Warner Bros. has issued an update on the status of the investigation, as well as the fate of the series itself. In a statement provided to Romper by Warner Bros. representative Paul McGuire, the production company says:
"As we previously stated, we recently became aware of allegations regarding an incident on the set of Bachelor in Paradise in Mexico. We take all such allegations seriously. The safety, security and well-being of the cast and crew is our number one concern, and we suspended filming so that the allegations could be investigated immediately and thoroughly. Our internal investigation, conducted with the assistance of an outside law firm, has now been completed. Out of respect for the privacy interests of those involved, we do not intend to release the videotape of the incident. We can say, however, that the tape does not support any charge of misconduct by a cast member. Nor does the tape show, contrary to many press reports, that the safety of any cast member was ever in jeopardy. Production on this season of Bachelor in Paradise will be resuming, and we plan to implement certain changes to the show's policies and procedures to enhance and further ensure the safety and security of all participants."
In other words, the production company's investigation concluded that there was no evidence of sexual assault on set, and the show will resume as previously scheduled.
We don't know the details about what happened on the Bachelor in Paradise set. But to be clear, the Warner Bros. investigation does not necessarily mean that Olympios was lying about being sexually assaulted, as many on social media have claimed. It simply means that there was not enough evidence to support allegations of sexual assault. This is fairly common when it comes to investigating sexual assault reports. While Warner Bros.' statement did not mention a police investigation, referring instead to an outside law firm that helped with the investigation, survivors who do choose to report their assaults to the police often see their cases dropped due to lack of evidence.
According to statistics from the Rape & Incest National Network (RAINN), only 310 out of every 1,000 instances of sexual assault are even reported to the police. From there, the numbers get even more bleak: just 57 of those reports result in an arrest, and only 7 lead to a felony conviction. The sad reality is that someone's account of what happened is often not enough within a system that prioritizes concrete evidence over victims' self-reporting, an issue that is exacerbated by our society's rape culture and a tendency to cast doubt on women who come forward with their assaults.
Furthermore, it's worth noting that, for better or worse, the Bachelor in Paradise situation sparked an important dialogue about alcohol and consent – one that shouldn't fade into the background just because the show will resume. It's crucial to keep talking about the fact that just because alcohol is involved, that doesn't give anyone the right to another person's body, nor does it put any fault on the shoulders of the victim. Unfortunately, this was a point of contention among many people online who insisted that Olympios was somehow less of a victim simply because she was allegedly intoxicated. Consent matters at every stage of a sexual encounter, and it especially matters when alcohol is involved. Cocktails do not negate the need for consent; read and repeat.
Ultimately, there is still a great deal that is unknown about the encounter between Jackson and Olympios. What we do know is that Olympios considers herself to be a victim; and that matters. It reminds us that we need to do a better job of simply believing women — without asking what they were drinking or what they were wearing at the time. We'll likely never know the whole story, but hopefully this story serves as a reminder that, as a society, we need to start having open and honest conversations about alcohol, victim-blaming, and the importance of consent.