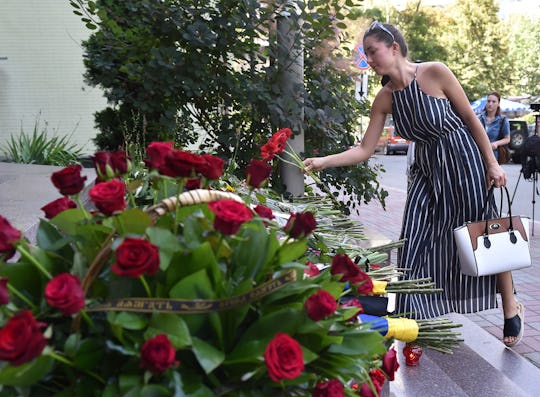 SERGEI SUPINSKY/AFP/Getty Images
The One Tweet About The France Crash That People Should Pay Attention To
On Thursday, France's national Bastille Day was tragically interrupted when a man drove a truck two kilometers into a celebrating crowd, killing 84 and seriously injuring another 50. The attack took place on a seafront promenade shortly after 10:30 p.m., when the gathered crowds had finished watching the firework display. In the wake of the attack, there has been an outpouring of support for France from around the world — but there have also been many using the attack to further their anti-immigration beliefs or political agendas. This one tweet about the Nice attack is an important reminder that, despite the fear and insecurity these attacks provoke, our focus should be on the victims and their loved ones.
After news spread of the attack, many people and politicians quickly used the tragedy to argue for "strong American leadership" (to borrow the words of New Jersey Gov. Chris Christie). Republican frontrunner Donald Trump tweeted, "Another horrific attack, this time in Nice, France. Many dead and injured. When will we learn? It is only getting worse." Former House Speaker Newt Gingrich called for "Sharia tests" on Muslims in the United States, suggesting deportation for any Muslim Americans who believe in Sharia law.
Less-veiled comments came from other Twitter users who immediately tied the attack to American politics and Islamophobia:
Never mind the Islamophobia, the hate, or the lack of logic in those knee-jerk reactions — let's (somehow) look past that for a second. There's something that feels very instinctively wrong in these reactions, something beyond the politicizing and prejudice that just doesn't sit right. Eighty-four people (as of the latest count) died on Thursday, and many people could barely rush past a "Prayers for Nice," before using the tragedy to try and further their own agendas. If I lost a loved one in a similar attack, I would be horrified if that loss were used as a political weapon. I'd feel ill that their death was categorized as an excuse to further someone's political campaign.
I understand the urge to fight for what you believe in — I do. Although I will never agree with the dangerous prejudice shown after these attacks, I understand that it comes from a place of fear and frustration, and that people lashing out do so because they (somehow) feel it is their best chance at peace. I feel the same way every time I read about a mass shooting in the United States: one part of me is irreparably saddened as I read the names of victims and hear affected families' stories; another part of me thinks that the latest tragedy could have been avoided if the United States just implemented better gun violence prevention measures.
So I understand the urge to link your beliefs to a tragedy. But, as Twitter user Charity put it, politics can wait.
Let's let families bury their loved ones. Let a country mourn. This is not a time for self-promotion or campaigning. People's deaths aren't a hashtag to exploit and promote your message. This is a time to put our own views away and stand in solidarity. It's a time to unite, show support, and allow people to grieve.
Think of how you would want your child or parent or friend or spouse's death handled by strangers. I know I'd want it done gently and respectfully, not as unnamed, convenient ammo to further their personal goals. There is a time and a place for politics — and right now, they don't belong anywhere near Nice.