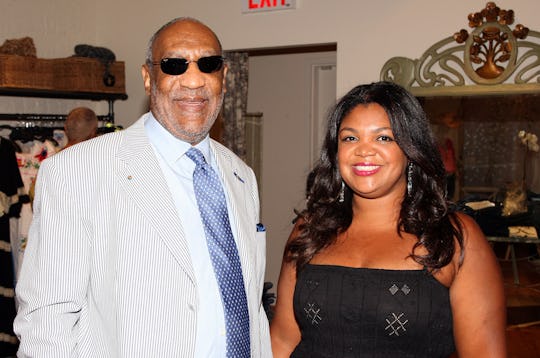 Bryan Bedder/Getty Images Entertainment/Getty Images
The Problem With Evin Cosby's Defense Of Her Father
He was once one of the most beloved TV stars in America, but these days, Bill Cosby is perhaps better known for being accused of alleged sexual misconduct by more than 50 women. Cosby has repeatedly denied any wrongdoing, according to People, but after being charged in December 2015 with three counts of aggravated indecent assault against 44-year-old Andrea Constand at his home in 2004, Cosby is now scheduled to go to trial on June 5 in Pennsylvania. He has pleaded not guilty to the charges, and on Wednesday, Cosby's youngest daughter published an essay praising the comedian as someone who "loves and respects women." But the problem with Evin Cosby's defense of her father is that, the fact the he could have been a good dad to her and a doting grandfather to her children doesn't negate the fact that he (or men in comparable cases) could still absolutely be guilty of drugging and sexually assaulting women. (Cosby's representative did not immediately return Romper's request for comment on the allegations, but Cosby has previously denied all accusations.)
Evin Cosby published her essay Wednesday on the NNPA Newswire, and in it, she certainly sounds like a daughter who believes her father is innocent. According to ABC News, Evin wrote about growing up as the youngest of five children, and about the close relationship she shared with her celebrity dad, as well as the pride she felt being able to watch him succeed despite what she called "the prejudice and racism he endured getting to where he got." Evin said that it was in fact her own happy childhood that led her to want to become a mother herself, and that her children "love their grandfather," but thanks to what she described as "the public persecution of [her] dad," and "the cruelty of the media" who have "[branded her] father a 'rapist' without ever knowing the truth," Evin said that her family has now unfairly become a target for hateful and "callous" harm.
In the essay, Evin clearly seems to desperately want to stick up for her father and shore up some public support in his favor, and, honestly, it makes sense that she might feel that way. After all, Cosby really has been on the receiving end of a great deal of public backlash over the past few years, and if Evin's honest experience is that he's been nothing but a wonderful man to her and the other women in his life, then why wouldn't she feel the need to say that as loudly as she possibly can? Evin also wrote that, from her view, anyone who had previously tried to defend her father had been silenced or dismissed, and given that Bill Cosby is a man she says is "helping ... raise [her] children and teach them family values," the criticism surrounding him right now must truly feel infuriating.
The issue though, of course, is that the question has really never been whether Bill Cosby is kind to his family, or even whether he is a more or less decent human being. The issue is whether he drugged and sexually assaulted at least one woman — Constand — and therefore, whether he deserves to be sent to jail because of it. That will ultimately be decided by the court, but the details that have been made public certainly don't appear to suggest that Cosby is completely undeserving of the backlash he's received, regardless of whether he's been a loving dad to his daughter or not.
For one, there's the fact that, in a 2005 deposition, Cosby himself testified that he obtained Quaaludes with the intent of giving them to women he wanted to have sex with, according to the Associated Press, and he also admitted at the time to giving the drug — a sedative — to at least one woman. In the same deposition, according to the Associated Press, he also admitted that he gave Constand "three half-pills of Benadryl," referring to the medication as "three friends to make [her] relax," according to Jezebel. Constand alleged that Cosby had told her that the pills were "herbal medication," and that they caused her to pass out. When she woke up, Constand testified that she was undressed and in pain, and that Cosby was in his bathrobe.
Then there's the fact that Constand is far from being the only woman claiming that she'd been drugged and assaulted by Cosby. According to CNN, dozens of other women have also come forward with similar allegations, but with the incidents alleged to have occurred as far back as the 1960s, the statutes of limitations in many of the cases have passed. Constand's case will be the first time that Cosby will actually stand trial, yet the women's stories sound quite similar.
Reality star Janice Dickinson alleged to Entertainment Tonight, for example, that while having dinner with Cosby in 1982, he gave her a glass of wine and a pill she thought was meant to help her menstrual cramps, and that "the last thing [she remembered] was Bill Cosby ... dropping his robe and getting on top of [her]," according to CNN. Another of Cosby's accusers, Heidi Thomas, said she met the actor in 1984, and that he had offered her a glass of wine. Later, Thomas alleged she woke up with Cosby in bed next to her "forcing himself in [her] mouth." And there are more accusers who allege very similar things.
In her piece, Evin Cosby argued that being a celebrity was what made him a target for these claims, and that his public persona was what led to the widespread denouncement of her father. Like Evin, those who support Bill Cosby have looked at the fact that it took years — decades even — for these women to come forward as a sign that they could be lying. But in reality, wasn't it was the public's love for Bill Cosby that basically meant that he'd been able to escape the bulk of the backlash until only recently?
As a man who'd been a beloved public figure for so long, the notion that he could have possibly been drugging and sexually assaulting women seemed hard for some people to wrap their minds around. In an op-ed in The Washington Post in 2014, one of Cosby's alleged victims, Barbara Bowman, spoke about the difficulty she'd had trying to come forward about the assault, and wrote, "I was a teenager from Denver acting in McDonald's commercials. He was Bill Cosby: consummate American dad Cliff Huxtable and the Jell-O spokesman." And in a 2015 New York magazine cover story, Tamara Green, whom Cosby allegedly assaulted back in the 1970s, said that it really was only very recently that anyone seemed willing to take the alleged victims seriously. She said,
In 2005, Bill Cosby still had control of the media. In 2015, we have social media. We can be disappeared. It's online and can never go away.
Of course, like anyone accused of a crime, Bill Cosby remains innocent until proven otherwise by the courts, like Evin said in her post about him. But the fact that he hasn't yet gone on trial doesn't mean that the claims against him don't deserve to be taken seriously. There's no question that seeing your father about to head to court for sexual assault must be unbelievably upsetting, especially if you believe him to be innocent. And if Bill Cosby was as wonderful and respectful a dad to his children as Evin Cosby says he was, then for their sake, that is wonderful.
But the jury in Cosby's case won't be asked to judge him based upon whether his kids had a happy childhood — they'll be asked to determine whether he sexually assaulted Andrea Constand. Evin Cosby might not want her dad to have to stand trial, but that doesn't mean that he deserves to be let off the hook, or that a dad cannot commit a horrible crime.