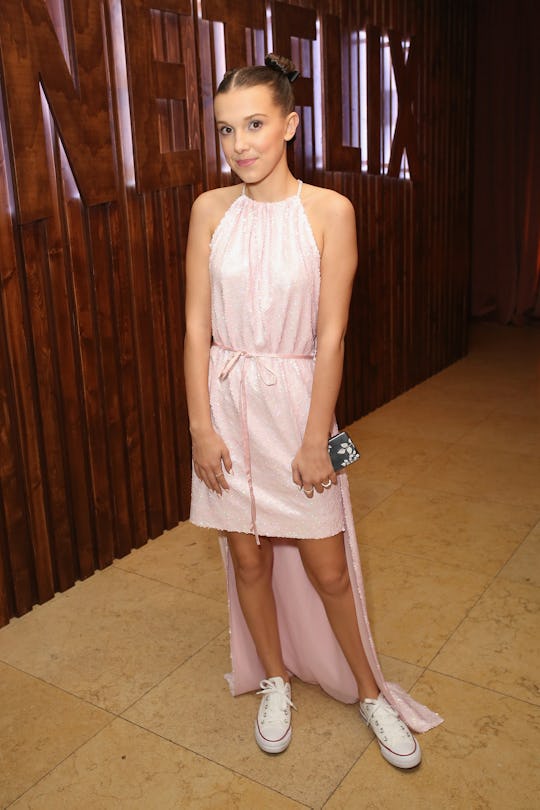 Rachel Murray/Getty Images Entertainment/Getty Images
The Reason Why So Many Actresses Wore Pink At The SAG Awards Is Feminist AF
In case you missed it, the 24th Annual Screen Actors Guild (SAG) Awards were held this past weekend on Jan. 21. The second high-profile, red-carpet, awards ceremony of the year kicked off on Sunday, just one day after millions of people — many of whom were proudly donning pink hats — participated in Women's March events across the nation. And was it just me, or did a lot of famous ladies opt to wear the same color at this particular event. As It turns out, the reason why so many actresses wore pink at the SAG Awards is feminist AF.
Earlier this month, nearly every person in attendance at the Golden Globe Awards wore black in solidarity with victims of sexual misconduct. This planned blackout was part of the ongoing #MeToo and #TIMESUP movements, and it certainly made a bold statement on the red carpet. In fact, the impression stars' attire made was so lasting that many people wondered if the "dress code" would spill over into subsequent award ceremonies, as reported by People.
It was pretty clear on Sunday, though, that another blackout wasn't happening at the SAG Awards. Instead, a large number of women opted to wear various shades of pink — including the host of the whole shebang, Kristen Bell. Bell dazzled in a pink ballgown while walking the red carpet before the ceremony began. (However, she ended up wearing black dresses during the actual awards ceremony.)
There was also Stranger Things star Millie Bobbie Brown, who wore a baby pink sequined dress, paired with Converse sneakers and pink nails, as reported by POPSUGAR. (If you couldn't tell, sequins seemed to be yet another trend for this year's SAG Awards, as The Los Angeles Times pointed out.)
The leading lady of Ladybird, Saoirse Ronan, also walked the red carpet wearing a pink silk gown, The Los Angeles Times reported.
And then there was Kate Hudson, who opted for a frilly pink Valentino dress covered in black hearts, reported In Style.
Margot Robbie, who stars in I, Tonya, wore a pink Miu Miu with sequins and an ostrich-feathery waistline, according to USA Today.
Other stars who opted for pink were:
Dakota Fanning.
Vanessa Kirby.
Uzo Aduba.
(Among others who wore pink, according to Us Weekly, were: Keltie Knight, Connie Britton, and Laura Linney.)
Of course, this parade of pink may have very well been a coincidence. But considering the timing of the SAG Awards, I highly doubt it. On the heels of the second annual Women's March — which was still filled with pink hats, for the record — it seems all of this pink and sequins was a residual display of feminism, following the marches that were held in cities across the globe.
Aside from what women were wearing at the SAG Awards, there was another element of feminism at the star-filled event: All-female presenters. And this was no accident, as The Hollywood Reporter reported. President of the Screen Actors Guild, Gabrielle Carteris, explained why the organization made this move. "We're celebrating all of our actors but are really looking to highlight and celebrate the women and the great work they're doing," she said, according to the publication. Carteris continued:
We are in a certain time in our history, and it is clear that the time is now for all of us to come together and really move forward and create this cultural shift we're looking for. That's the real truth, and the awards can be a platform [for that] or not. The time is now — you feel the energy behind it and people are ready. I would like to see us create from that energy.
Admittedly, I'm not very keen on fashion. (As a busy mom of three, I'm probably wearing the same workout clothes that I ran in earlier in the day.) But I have to say, I'm loving the bold statements that are raising awareness at these awards ceremonies. Next up: The Grammy Awards on Jan. 28. Will stars create another blackout? Will pink once again rule? Or will there be a completely different fashion statement altogether?
Check out Romper's new video series, Romper's Doula Diaries:
Watch full episodes of Romper's Doula Diaries on Facebook Watch.