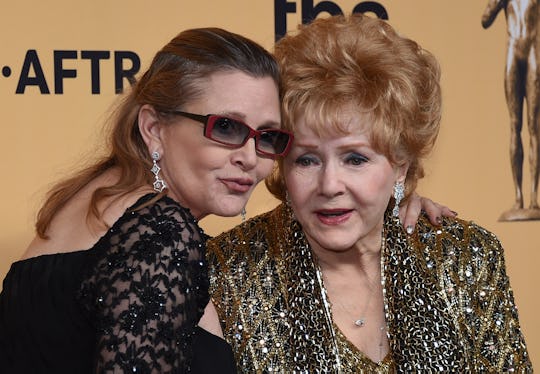 Ethan Miller/Getty Images Entertainment/Getty Images
The Story Behind Carrie Fisher Watching Her Mom
In the days since Debbie Reynolds and Carrie Fisher's death, life has not gotten any easier. Since Fisher died on Tuesday at 60 years old and Reynolds died just one day after, fans have continued to mourn the loss of the legendary actresses in their own ways. Fans are keeping the actresses memories alive by sharing photos and stories of the actresses together. And one particular photo has gotten a lot of attention — the story behind that photo of Carrie Fisher watching Debbie Reynolds on stage is both heartbreaking, so sweet, and just another way to remember the mother daughter duo.
The photo started circulating shortly after Reynolds died — and without even knowing the story behind the photo, the photo clearly tells a story. A little Carrie Fisher sits on a stool, behind a curtain on stage left. To her right, a spotlight shines on her mother, arms open wide, performing in front of an audience. The photo could not be more adorable. Not only does the photo show just how captivating and how much of a star Reynolds was — but it shows the admiration that Fisher had for her mother from a young age. Their bond would be proven to be unbreakable, even as they grew older.
The story behind the photo is just as sweet.
The New York Times was able to track down the photographer of the photo — and found that celebrity photographer Lawrence Schiller took the photo in 1963. The story behind the photo put Schiller in the right place at the right time.
According to The New York Times, Schiller had traveled with Reynolds and Fisher from Los Angeles, California to Las Vegas, Nevada in 1963. Reynolds was performing a show at the Riviera Hotel when Schiller snapped the photo. He recalled to The New York Times that Fisher could sit and stare at her mother for hours. According to The New York Times, Reynolds was on stage performing when someone who was watching Fisher brought a stool over to the side of the stage which she climbed up on top of "all by herself." Schiller told The New York Times:
Her daughter was really mesmerized by her mother always. Thats what really stood out.
According to The New York Times, taking the photo was not easy due to Schiller needing to use the right shutter speed, camera lens, and angle.
Despite it being a bit of a challenge for Schiller the photo turned out perfectly — capturing the star power of Reynolds and Fisher and their mutual adoration all in one photo.