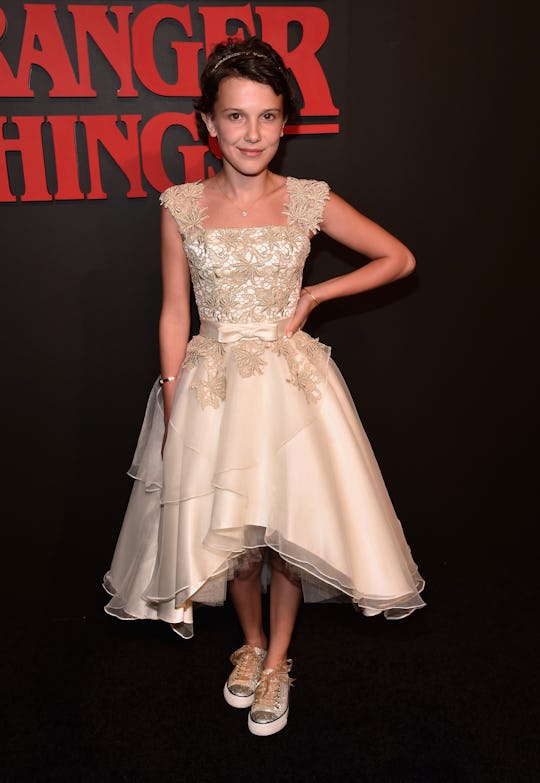 Alberto E. Rodriguez/Getty Images Entertainment/Getty Images
The 'Stranger Things' Kids' 2016 Emmys Interview Was Absolutely Adorable
The 2016 Emmys red carpet was filled with some of TV's biggest and brightest stars and of course members of the Stranger Things cast were also in attendance. In particular, it was the Stranger Things' kids that gave the most adorable 2016 Emmys interview we're probably going to see tonight. Eleven (Millie Bobby Brown), Dustin (Gaten Matarazzo), and Lucas (Caleb McLaughlin), walked the red carpet together and were so cute during their interview with Giulian Rancic.
For all three of the cast members the 2016 Emmys is their first Emmys and so far they're loving it.
"It's incredible," Brown said about the experience so far. "I've been watching E! and everything for such a long time now and to actually be here...it's amazing!"
When asked who they were most excited to see McLaughlin chose to be democratic, saying he was excited to see everyone and didn't want to forget to mention anyone's name in the long list of people he wants to see tonight. Of course, with so many amazing actors and actresses in attendance tonight it's not surprising that he couldn't pick just one.
Naturally, Rancic then asked the stars what they were wearing tonight and McLaughlin was more than happy to tell us about the outfit his stylist put together for him.
"I wanted this but my stylist, Riley Scott, got me this custom tux from Eden Miles and this custom made bowtie by Gleek Bowties," McLaughlin happily explained.
Although Matarazzo looked just as finely dressed as his co-star, his outfit choice was a bit more laid back.
"I just went to this place and got this tux from a rental place, from Neil Allyn," Matarazzo said.
No matter where they got their outfits, all three of the Stranger Things stars looked amazing and Brown was even carrying a small purse with her name on it, because it's the 2016 Emmys and why not boast your own name. Seriously, there needs to be zero explanation to that bag (plus, it reduces the risk of people calling her Eleven.)
The only thing that could've made this interview even better was if Mike (Finn Wolfhard) and Will (Noah Schnapp) were also in attendance. Although they were sorely missed, Brown, McLaughlin, and Matarazzo held their own and as Rancic herself put it, no other interview could top this one. These kids are stars, and this is only the beginning of their star rising.