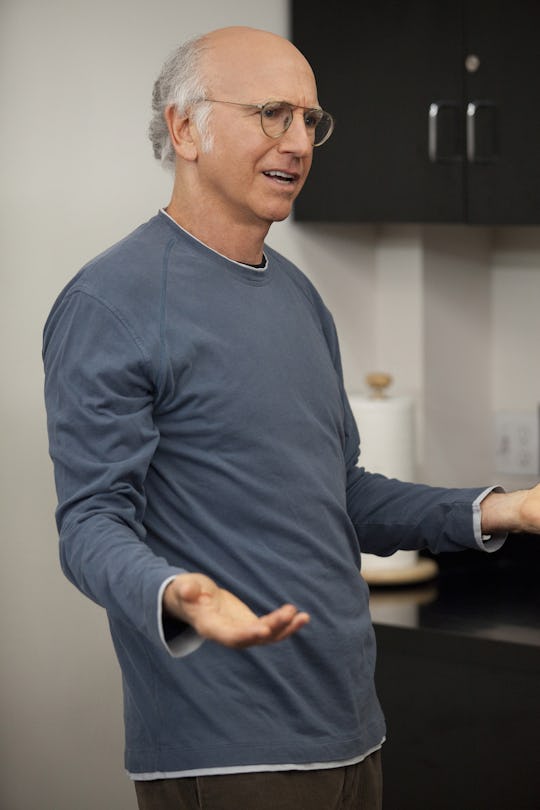 John P. Johnson/HBO
The Teaser Trailer For 'Curb Your Enthusiasm' Is Here!
Curb Your Enthusiasm first made its way onto television screens in 2000, meaning it has been on and off for the better part of seventeen years. I know; the passage of time is an ever-mounting horror that no one can escape. Though the show was on regularly for most of its initial run, TV rules going out the window opened up the possibility for its return after lengthy hiatuses. Its most recent season aired in 2011 but now, several years later, it's back again. And the teaser trailer for Curb Your Enthusiasm Season 9 proves not much has changed.
The teaser shows a slowly-revolving Larry David done up as Julius Caesar with the tagline, "He left. He did nothing. He returned." The joke comes from a quip David made about why he wanted to bring the show back for another season, though it nicely sums up the style of comedy he's been known for since Seinfeld; David's had a lot of success with shows about nothing. But David's final line in the teaser is even more appropriate to why fans want to see more of Curb Your Enthusiasm: it was good, it was fun, so why not go around again?
The teaser didn't reveal much about the actual season aside from its October 1 release date, but luckily some information about the new episodes has already made its way to the public.
Clues gleaned from the show's IMDB page indicate that Season 9 will be ten episodes long, and there's already an episode summary posted there for its premiere episode. As far as Curb Your Enthusiasm storylines go, it already sounds like a classic: "Larry gets scammed by an online dating site. He falls in love with a woman from Russia and lives his own 90 Day Fiancé." I can sense the oncoming cringe-laughs already.
Reportedly nearly all of the original cast will be back, including Cheryl Hines, Jeff Garlin, Susie Essman, Richard Lewis, J.B. Smoove, Ted Danson, and Mary Steenburgen. But there will also be some fun (and unexpected) new additions, like Gilmore Girls' Lauren Graham. Graham tweeted about the news by quoting one of the more memorable lines from the show, writing, "Pret-ty, pret-ty, good. RIGHT?" It's not clear yet what her role will be, but more Lauren Graham is always good.
It will be a few months before Curb Your Enthusiasm is back on HBO once again, but after six years what's a few more months?