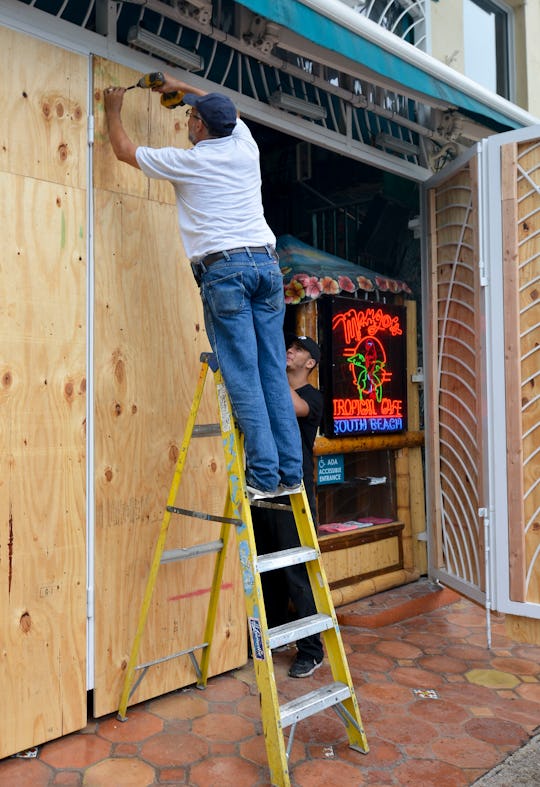 GASTON DE CARDENAS/AFP/Getty Images
The Worst Hurricane Evacuation Mistakes Families Make
Hurricane Matthew, which will see winds up to 150 mph, will hit parts of Florida late Thursday. Parts of Georgia, North Carolina, and South Carolina will also be impacted over the course of the weekend. Officials are urging everyone to take this hurricane seriously. For those who are affected by this storm, it is important to know how to avoid the worst hurricane evacuation mistakes families make.
One of the most common mistakes families make is waiting too long to prepare an emergency supply kit.
FEMA recommends that families have a supply kit ready with non-perishable food items, a gallon of water for each person, and clothing to last a minimum of three days. It's also important to have batteries, a radio, a first aid kit, and a can opener.
But many people wait until the last minute to stock up on supplies, and often don't buy the essentials. Rick Dixon, who has been living in Florida for 25 years, isn't worried about Hurricane Matthew. His grocery list also didn't exactly match up with FEMA's recommendations.
"I've got Doritos," Dixon told The New York Times. "I'm good."
Another common mistake families make is not securing their homes for the storm. Protect windows by installing storm shutters, and install garage door anchors. If you live in an area that sees storms on a frequent basis, consider getting flood insurance, since most homeowner's insurance policies don't cover flood damage.
"If you can afford it, every homeowner should have it," Erik Salna, associate director of the International Hurricane Research Center, said in an interview with Live Science.
The city of Charleston has distributed 15,500 sandbags for families to use in their yards, The New York Times reported. It's also recommended that families remove objects from their backyards that could be dangerous or even become potential projectiles in strong winds.
One of the most critical mistakes families can make is not evacuating early enough — or not evacuating at all. Hurricane Matthew has the potential to be devastating, and it has already killed more than 100 people in Haiti, according to local sources.
Hurricane Matthew has been upgraded to a Category 4, and many counties across Florida, Georgia, North Carolina, and South Carolina have been issued evacuation orders ahead of the storm. Florida will be the most impacted, with evacuation orders affecting 1.5 million people. For those in one of the affected areas, find your nearest hurricane shelter here.
Florida Gov. Rick Scott urged people to evacuate and let them know how serious Hurricane Matthew will be, according to CNN:
Don't take a chance. A small movement (of the storm) could mean a lot. That's why we have to prepare for a direct hit. So again, if you need to evacuate and you haven't, evacuate. This storm will kill you. Time is running out. We don't have that much time left.
Scott's warning is crucial, because the time to escape Matthew is already dwindling. Fort Lauderdale–Hollywood International Airport closed Thursday at 10:30 a.m. Flights will also stop at Orlando International at 8 p.m. Eastern Time Thursday, spokesperson Carolyn Fennell told CNN. Jacksonville International Airport will stay open as long as planes can fly in, CNN reported, but among all airline carriers, many flights have been delayed or canceled.
Finally, many families overlook the importance of knowing what to do after the storm is over. Many people use portable generators during hurricanes in case they lose power, but those generators emit carbon monoxide, which is invisible and odorless and has has killed people in previous hurricanes. Natural gas leaks can also occur after severe weather, so it's important to know who to contact if you smell gas.
For those affected by Hurricane Matthew, hopefully these tips will help your family get through the storm. And may the most eventful part of your weekend be winning UNO. Until then, stay safe.