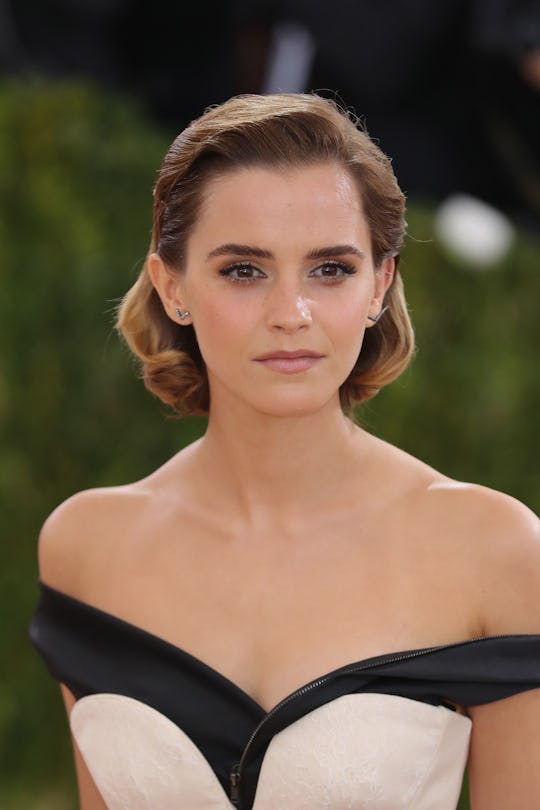 Neilson Barnard/Getty Images Entertainment/Getty Images
These 'Beauty And The Beast' Photos From 'Entertainment Weekly' Prove This Tale Is Timeles
Tale as old as time. Get ready for that classic ballroom dance scene because these Beauty and the Beast photos from Entertainment Weekly prove this tale really is timeless. The publication provides an exclusive look into the upcoming live-action film. The first sneak peek we receive is of the magazine's latest cover photo. The cover invites you to "be [EW's] guest as [they] take you inside the most magical, romantic movie of next year."
In the image, we see Belle look up at the Beast with a puzzled facial expression as he gently holds her. The spell has not yet been broken, and we all can't help but feel entranced by this partially CGI still. We've seen a very similar image before in the beginning of October, except in that image Belle was looking down and away from her suitor. The newest image displays the Beast's bare feet, that look a lot like Simba's hind legs, and Belle's perfect Disney hair. The Disney princess looks like she's wearing a necklace — perhaps a token gift from her Beast. The cover also reveals the dress's movement as it flows gracefully behind the bookish princess.
The second image (shown in the video with EW) provides us an eyeful of the beautiful princess in her iconic yellow gown.
According to Entertainment Weekly, "In Emma's reinterpretation, Belle is an active princess. She did not want a dress that was corseted or that would impede her in any way."
This reasoning likely explains why Belle's dress appears to be moving in this photo, and the one above. She stands facing the audience in the dimly-lit music hall. It's clear that Emma Watson brings the beauty to Belle.
Next up, a shot of the reimagined, super fancy Lumiere and Cogsworth is revealed. They look like the animated version of the duo after taking some serious etiquette classes.
These characters don't look so friendly when idle, but hopefully they'll be far more welcoming once they warm up to "that funny girl," Belle. After all, how else could they sing "Be Our Guest" any other way?
More in-depth photos are teased in the issue. We see the Beast and Belle in his study, Belle with her father, and the evil Gaston and his sidekick, Le Fou. To conclude, we are given quick glimpses of the quiet interior of the castle, and another look at household items like the teacup, Mrs. Potts — her son, Chip, better be in this, too.
I'm really excited to see how the transformation scene from Beast to prince will play out in the movie, and in my own love life, heh. Until then, I look forward to taking the film up on it's invitation come March 17, 2017.