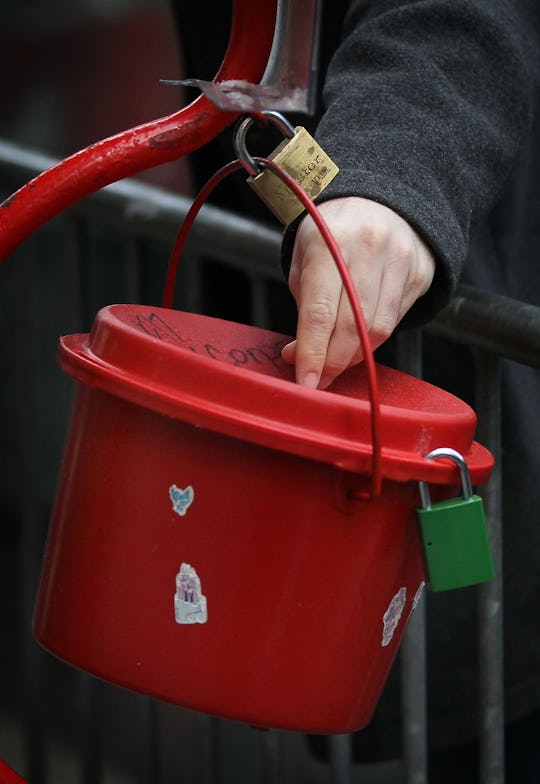 Scott Olson/Getty Images News/Getty Images
Here's How To Find Or Give Assistance For The 2018 Holiday Season
For most people the holiday season is a time of learning how much is enough — enough food and celebrating, enough money spent and presents received. But for millions of Americans, these months are a time of great economic insecurity, as heating bills rise and cars need to be serviced to keep up with weather. There just isn't money to put into big holiday celebrations, let alone enjoying to excess. That's why it's important to know about some of the economic assistance programs available, especially at this time of year. Here's a look at the Christmas assistance programs for 2018.
Toys For Tots is another national-level organization that works to provide a happy holiday season to children of all ages. Run by the United States Marine Corps, the non-profit collects toys and allows families to apply to receive them. To submit an application, use the page on the organization's website that allows you to look up a local campaign.
Catholic Charities is an organization that provides bill-pay and assistance programs to people in need of all faiths. The group is more than 100 years old and has chapters in every major city in the nation. Not only does it assist with affordable housing, food, disaster relief, and immigrant services, it's a powerful advocacy organization that works to affect policy. To seek assistance, use the search function on its website to locate a chapter that is operating near you.
Be An Elf calls itself a micro-philanthropy organization because it connects people who want to help directly with the people seeking assistance, which is pretty cool if you think about it. A child can write a letter to Santa in care of any post office that is running the Operation Santa program. Those who wish to be involved can adopt a letter either at their post-office or by visiting the Be An Elf website. The "elf" then sends the gifts directly to the family of the child that wrote the letter. If you're looking for something a bit more hands-on than simply sending off a check or donating online, this kind of thing could be fun for the whole family. To find out how to have your child submit a letter to Santa check the USPS website DeliverCheer.com.
Every state and most cities also have assistance programs for food and toys operating on the local level. The website Helping Americans Find Help lists many of these and also provides a state-specific search function to let you look up what's happening in your area. These are not always specifically holiday assistance programs, but many work to relieve the burden from a financial crunch or long-term economic instability through a comprehensive approach, helping people afford every aspect of life.
Here's to a happy holiday season for children – and families – everywhere.
This first-time mom wants to have a home birth, but is she ready? Watch how a doula supports a military mom who's determined to have a home birth in Episode One of Romper's Doula Diaries, Season Two, below. Visit Bustle Digital Group's YouTube page for the next three episodes, launching every Monday starting November 26.