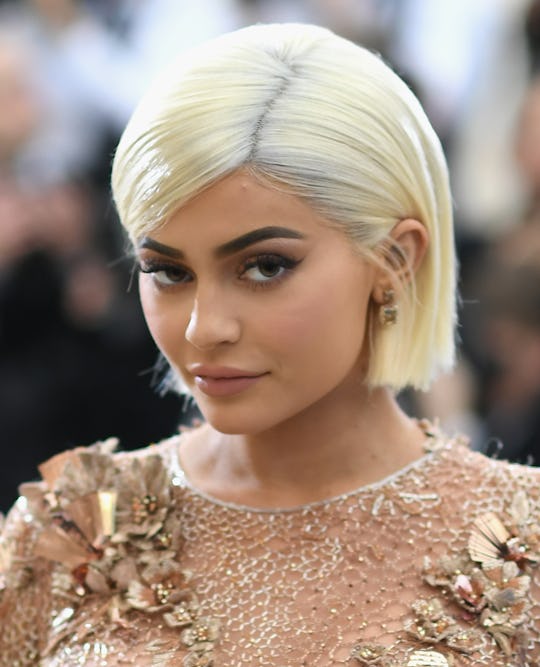 Dimitrios Kambouris/Getty Images Entertainment/Getty Images
These Clues That Kylie Jenner *Isn't* Pregnant Will Seriously Make Your Head Spin
Ever since rumors began circulating that several members of the Kardashian-Jenner family could be pregnant, fans have been grasping at straws for proof. Without any confirmation from two of the allegedly pregnant sisters, the world is left scanning paparazzi photos and scrutinizing social media posts. While some may hint the rumors could be true, these clues that Kylie Jenner isn't pregnant will make you question everything that you have come to believe about her alleged baby-to-be, because the argument that she has one on the way is pretty thin.
There has been no shortage of "proof" of Jenner's reported pregnancy if you are willing to accept a butterfly ring, some baggy shirts, and a reference to a rice crispy as supporting evidence. There have been no official statements from Jenner of any of her family members, just a few alleged unnamed sources who claim to know it all. Without much to go on, fans are left more hoping that there is a baby on the way.
The evidence to the contrary is equally thin, but an argument can be made that she was never pregnant to begin with. Jenner — along with her family members — has gone out of her way to not confirm or deny the pregnancy rumors and she has posted to social media seeming to purposefully contradict these reports.
Jenner Claims These "Bump" Photos Were Photoshopped
While not an outright denial, Jenner did respond to some paparazzi photos claiming that she's pregnant and attributing its proof of the pregnancy to her "bump." In the article,The Daily Mail wrote, "We are awaiting confirmation on her much talked about pregnancy and in this latest outing we are starting to see a bit of a growing baby bump," pointing out her loosely fitting clothes.
Jenner was quick to respond to the outlet. She sent out a tweet saying "First of all if you're going to photoshop my photos blogs/paps!! Check for the crooked lines in the background. 2nd photo is clearly altered," along with photos from the website to back up her claims.
The included photos were reportedly taken by a photographer from X17Online. The site responded to Jenner's tweet saying the photos aren't altered, instead they are to be "100% REAL! No Photoshop, #nofilter, no additives, no preservatives—all organic and all REAL!" The Daily Mail has also claimed that the photos are originals, including in its story the line, "DailyMail.com can confirm the pictures have not been digitally altered."
Whatever the true story might be, Jenner went out of her way to try and squash this one.
She Shared A Snap Of Her Buying *Tampons*
Another internet nugget that has some questioning the veracity of the Kylie Jenner pregnancy allegations came from Jenner's own Snapchat account on Sunday. She posted a few photos of herself and her sisters seeming to prepare for a "girls trip," with snacks, candy, ice cream, and *gasp* tampons.
The inclusion of the tampons in her haul has raised a few eyebrows. Tampons are for managing menstrual periods, and — as you probably already know — you don't get a period while expecting. Fans were quick to ask, why would Jenner be buying tampons if she's pregnant?
They could very well be for someone else, but it could also be sly way of saying all these rumors are false.
Her Mom Won't Address The Pregnancy Rumors
Finally, everyone's favorite momager Kris Jenner has failed to confirm or deny the pregnancy, even when put on the spot. In a recent interview on The Ellen DeGeneres Show, Jenner's mom skirted the topic, even going so far as to suggest that pregnancy allegations are "fibs," according to E! News. She told DeGeneres:
You're the best daughter, because you're so easy to get along with. You do make up a lot of stories, though. You've got to work on that. You know, the little fibs every once in a while?
To which the talk show host replied, "You mean mentioning they were pregnant?" And Kris laughed and said, "Yeah!" DeGeneres went on to prompt Kris even more, saying, "[Kendall and Kourtney are] not, but you have lots of pregnant children right now. You do. You have a whole bunch of them." To that Kris just smiled and said, "Oh, I can feel where this is going. She's trying to trick me into confirming pregnancies."
Fans have been (not so) patiently awaiting official confirmation of Jenner's pregnancy ever since People first broke the news on Sept. 22. For her part, Jenner has done almost as much to squash the rumors as she has to fuel them. Given the mixed signals she is sending out, it looks like fans really will just have to wait and see.
Watch Romper's new video series, Romper's Doula Diaries:
Check out the entire Romper's Doula Diaries series and other videos on Facebook and the Bustle app across Apple TV, Roku, and Amazon Fire TV.