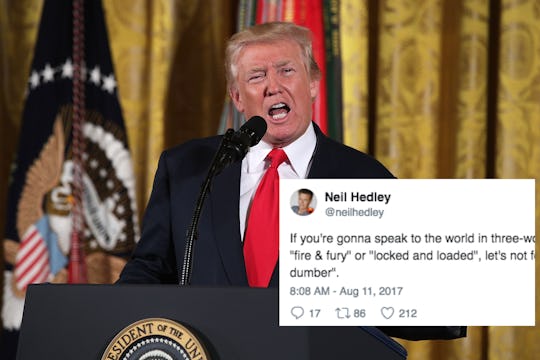 Alex Wong/Getty Images News/Getty Images
These "Locked & Loaded" Tweets About Trump & North Korea Will Make You LOL
President Donald Trump reassured everyone on Twitter on Friday that "military solutions are now fully in place, locked and loaded" if North Korea decides to "act unwisely" — presumably referring to a possible firing of missiles near the U.S. territory of Guam that has been threatened by North Korea's leadership. Because commenting on the possible escalation of military confrontation between two countries is clearly something you should announce major developments about via tweet. In any case, Trump's tweet, as usual, led to a ton of reactions on the social media platform, and these "locked and loaded" tweets will hopefully make you laugh, instead of be terrified by the idea of possible nuclear war.
The Washington Post reported that Trump tweeted on Friday morning, "Military solutions are now fully in place, locked and loaded, should North Korea act unwisely. Hopefully Kim Jong Un will find another path!" Then, to emphasize the point, he retweeted a message from the U.S. Pacific Command's official Twitter account, according to NBC News. That tweet stated, "#USAF B-1B Lancer #bombers on Guam stand ready to fulfill USFK's #FightTonight mission if called upon to do so."
So you could say it's been a rather busy morning for the notoriously tweet-happy commander-in-chief. And, in return, the rest of Twitter was kept busy joking about his use of the phrase "locked and loaded" in his tweet.
According to the BBC, Pyongyang — the capital of North Korea — previously announced plans to fire missiles near Guam, and the island's homeland security agency issued a fact sheet Friday that included tips for residents to prepare for any missile threat. That's legitimately pretty scary, and one time-honored way people react to scary news is with humor. So that's exactly what people on Twitter did.
Twitter user @OhNoSheTwitnt poked a little fun at films from the 1990s when she posted, "'We are locked and loaded.' The president of the United States is spouting what sounds like bad dialogue from a ['90s] action movie."
And speaking of entertainment, another Twitter user compared Trump to a particularly well-known literary character in his response to Trump's "locked and loaded" tweet.
Screenwriter Randi Mayem Singer also made a literary joke when she tweeted, "Fire and Fury. Locked and loaded. Who's the a*shole that told him about alliteration?"
But comedian Nat Baimel turned to music instead with his "locked and loaded" reference. He tweeted:
'Locked and Loaded'
'Fire and Fury'
'Unlike Anything the World Has Ever Seen'
Trump quotes or Metallica set list?
And though the rather infamous @TheGoodGodAbove Twitter account didn't specifically mention the latest "locked and loaded" phrase, on Tuesday it did reference the escalating situation between the United States and North Korea and how Trump is handling. The account tweeted, "The closer Robert Mueller gets to arresting Trump, the closer the world gets to Nuclear Armageddon. Somebody hand Trump a fidget spinner plz."
But the truth is, the current situation with North Korea is not really a laughing matter. There were also plenty of "locked and loaded" tweets that made that clear.
Comedy writer Nick Jack Pappas emphasized that in his tweet when he posted, "'Locked and Loaded' is a line for fictional war movies. It's not something you say when real lives are at stake."
Ultimately, political commentator Ana Navarro may have had the best reaction to Trump's "locked and loaded" tweet.
Because who doesn't love a good Vin Diesel reference when the world might be on the verge of nuclear war?