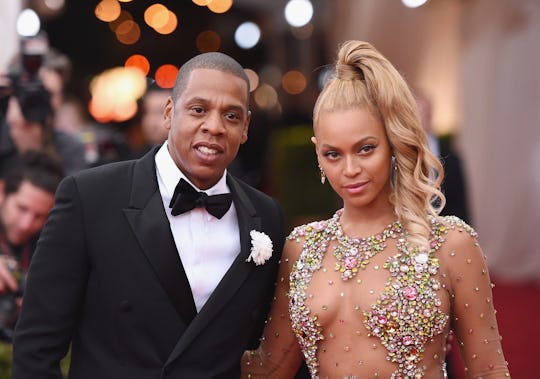 Mike Coppola/Getty Images Entertainment/Getty Images
The Latest Rumors About Beyonce's Life With The Twins
Since the birth of the Carter twins, Rumi and Sir, Beyoncé and her family have been reportedly spending the summer in a luxurious Malibu vacation home. Although they have largely been kept out of the limelight, fans are still getting a peek inside the twins' lives. And now, a few rumors about Beyoncé's life with the twins prove that there's plenty of love to go around.
Sources close to the Carter family recently spoke to People about what life looks like for Beyoncé now that the twins have made their arrival into the world. One source discussed the days reportedly following the births, saying,
After Beyoncé was released from the hospital, she has been all about Blue and the babies. She has doctors that come to the house weekly and they have several baby nurses that help out.
Vic Mensa's album release party last week was Beyoncé's first public appearance since giving birth the the twins. Aside from that, the Carters have been laying low and getting in plenty of family time.
The family hasn't been entirely isolated, however. The source also claimed to People that the Carters have been hosting friends in their Malibu rental home as well:
She often has friends over for lunch and they have also had a couple of smaller dinner parties on the weekends.
Life isn't all dinner parties and relaxation in Malibu — twins can be a lot of work. Fortunately, Beyoncé has a little helper on hand to ease the workload a little bit. The source that spoke to People claimed that "Blue is very happy to be a big sister," and has been helping her parents look after the new babies.
JAY-Z and Beyoncé are reportedly in the market for a permanent home and would like to be moved in before Blue Ivy returns to school in the fall. For the time being, the Carter family is enjoying life in Malibu and taking things at a slower pace.
Along with the welcome information about how the Carters are adjusting to life at home with the twins, the source also stated that Beyoncé reportedly plans to focus on motherhood for a while:
Beyoncé is happy with just being a mom right now. She has no plans to work. She seems relaxed and very happy. Everything is good with her and Jay, and they seem to have a lot of fun raising their family together.
As much as we all hate to hear that there won't be any upcoming concerts for the Beyhive to swarm to, it's great to know that the Carters are happy, healthy, and enjoying their summer. But really, how do I score an invite to one of these dinner parties? I'll keep my schedule free for you, my queen.