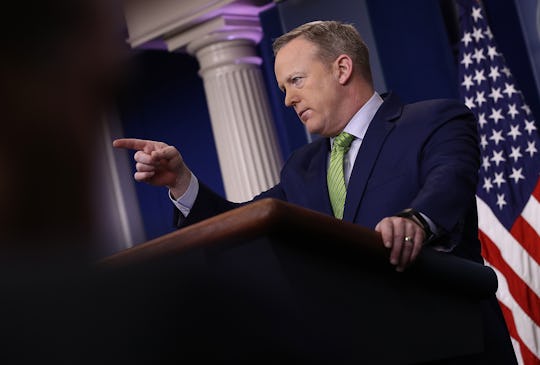 Win McNamee/Getty Images News/Getty Images
Sean Spicer & The Alternative Super Bowl
When it comes to big TV events, Twitter normally knows how to bring the funny, and the 2017 Super Bowl was no exception to that rule. For those of you who don't believe me, just look at all the current Sean Spicer Super Bowl Patriot memes that are currently floating around out there.
During President Donald Trump's interview with Bill O'Reilly before Sunday's Super Bowl 51, Trump was asked an interesting final question. O'Reilly, seemingly being prompted by producers, asked Trump what his predictions were for the game. Mumbling about how he didn't like to make predictions, Trump finally resigned to an answer that absolutely no one was surprised about. In short, Trump said he thought that the New England Patriots would win, by eight, to be exact.
Now, we all know just how much President Trump hates to be wrong. Refuses to, actually. So, with the Atlanta Falcons taking an early, and big, lead in the game, many Twitter users pointed to the fact that Trump and his team might not be too happy, after all. In fact, as White House Press Secretary Sean Spicer's reputation has proven, it wouldn't really be that much of a surprise if Spicer decided to spew some "alternative facts" when asked about the game on Monday morning. And regardless of who you were cheering for this Sunday, or if you even just stopped watching after Lady Gaga performed (who would blame you?), these Sean Spicer Super Bowl Patriot memes will definitely bring the laughs — and don't we all deserve that?
It's no secret that Trump's press conferences, and Spicer's handling of the press during briefings haven't exactly been breezy, or friendly, even. In fact, many journalists have noted that Trump's team is heading into dangerous territory, calling reputable news sites and publications "fake news" and refusing to answer questions. Some have called into question whether Trump is trying to take away our first amendment rights, and they aren't wrong to think so.
While Spicer is still new to the White House, and his job has really only just begun, many are still noticing that he isn't exactly answering questions directly, honestly, or even factually.
Obviously, for anyone watching the game, or even just following along on Twitter and social media, it was clear from the first half of the game that the Atlanta Falcons would be dominating the field for the most part. But as Trump's allegiances lie with the Patriots, viewers were bracing for possible White House reactions to the game.
In all seriousness, we can't say for sure what Trump's reaction to the Super Bowl will be, though we wouldn't be surprised if his Twitter page saw some action later tonight. And while Spicer may not even comment on the game at all, these jokes and memes are enough to make a sports fan out of anyone, even if only for tonight.